Regarding the Volatus' landing gear
As of the time of writing this message, I have yet to fly the Volatus myself, so I need someone else to verify this: does the helicopter have retractable tricycle landing gear like the Swift, Swift Deluxe and Savage?
TAlim 1994 - Konan T-A Lim (talk | contributions) 07:43, June 15, 2016 (UTC)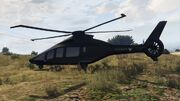 Speed.
The speed data is not accurate. The Volatus has the highest top speed among helicopters, being much faster than the Frogger and slightly faster than the Swift. —Preceding unsigned comment added by Ian Sasha (talk • contribs) Please remember to sign your talk page messages with ~~~~.
Community content is available under
CC-BY-SA
unless otherwise noted.