Glitched?
Is it just me, or has the XBOX360 Version not got anything except the 3rd property, cause my game doesnt have any of the new cars, or the firework launcher? is this just for xbox one and ps4? This is why the wiki needs to be very clear, anyone could get confused over this! 
(talk) 18:04, December 18, 2014 (UTC)
Whoa... I'm sorry, but it must be a glitch, I got the Slamvan, the Rat Truck and the homing rocket launcher

(talk) 18:09, December 18, 2014 (UTC)
Aaaah, how do i get it!!!! That is so annoying, ive still got a 3rd appartment tho, that is strange! 
(talk) 18:11, December 18, 2014 (UTC)
Some time ago I heard you talking to someone that you have a X360, so I guess you should uninstall it then install again, I don't know how to do it though, I have a PS3 and I never played X360

(talk) 18:14, December 18, 2014 (UTC)
No glitch. R* is just being lazy and doesn't want to release the DLC for XB360 for some reason. I'm still waiting for them to release the DLC already but I feel like I waited enough.
Worst update ever.



18:15, December 18, 2014 (UTC)
No snow here on the PS3 version. "Don't worry,-- --it's only collateral damage." 23:47, December 18, 2014 (UTC) https://twitter.com/RockstarGames

Rain - Talk
18:17, December 18, 2014 (UTC)
Ye, rockstar are 'having technical issues for it to be released over all 4 platforms', some people have it and some people dont. 
(talk) 18:19, December 18, 2014 (UTC)
Uh for some reason Online won't even load for me or my friends it just keeps saying "Failed to make connection." We are Diamond Dogs (talk) 04:13, December 23, 2014 (UTC)
Festive Surprise 2015
So I was looking at Snapmatic, trying to see entries for the new contest, when I saw this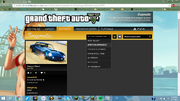 It shows a Snapmatic contest, is that confirming it or no?
Kylerfox10 (talk) 22:51, December 17, 2015 (UTC)
Very good find, I'd say that is sure fire proof. LS11sVaultBoy (Talk) 23:00, December 17, 2015 (UTC)
Looks like Rockstar messed up again by linking the rules for the contest on the link for the rules for the Executives one. Got this link from Twitter http://socialclub.rockstargames.com/events/101161/festivesurprise2015-snapmatic-contest/rules
Kylerfox10 (talk) 23:06, December 17, 2015 (UTC)
Community content is available under
CC-BY-SA
unless otherwise noted.