Black, yellow and white Camper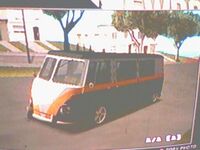 "There is a rare color scheme for the Camper it is a black, yellow, and white color. I have it saved in one of my garages in San Fierro."
Would like to know where this van was taken from. None of the Campers in missions or traffic from my version of the game has ever appeared with this color. - ZS 17:55, August 8, 2010 (UTC)
I randomly found this van in a parking lot near the Hippie Shopper store (that's where the courier side mission starts at) and the Cemetary in Ocean Flats, San Fierro. This is not a mod nor did I use a trainer to get this color (I don't even know how to mod). This van I didn't find in a mission only in a parking lot. I have the PS2 version of the game. GTAFreak15 00:04, August 9, 2010 (UTC)
That's weird. Normally we only allow mention of vehicles with unique colors if it's possible for anyone else to find it. Otherwise, it can be assumed that this is result of a glitch in the game, and is something only unique to the player who mentions it. Perhaps you can bring this up on a GTA forum and verify if others have obtained a Camper like that? - ZS 03:50, August 10, 2010 (UTC)
I might think that this could be glitch becuase I use cheats all the time and I have cheated like about 4915 times. So it could possibly be a glitch. I found a random colored Camper and took it to the Pay & Spray and tried to see if the same black yellow and white color would come back but no luck. Obviously this could be a glitch. GTAFreak15 04:19, August 11, 2010 (UTC)
i found this version of the camper a lot with and without cheats on the xbox version of the gameRok198 03:13, October 8, 2011 (UTC)
i also found a camper with this color in the pc edition,no cheats no mods. would post a pic but no idea how. edit: just spotted a second one,both were found in los santos.Adam27 (talk) 06:01, June 22, 2013 (UTC)
I found one of these several times on the 360 version. They are rare but not unique. I didn't steal them because I think Campers are bad cars, but it's not glitch. Maybe some PC version player can look at files to see the colors. Mike Cui (talk) 19:05, June 23, 2013 (UTC)
Community content is available under
CC-BY-SA
unless otherwise noted.