Design
Is it just me or does it look a bit like the SU25-T Frogfoot as well. A Russian plane, which would also fit in with the name being a bird from Asia.
Gleisner (talk) 08:58, August 19, 2014 (UTC)
Frigfoot was a NATO call sign for the SU-25 besides the plane is based on the BAE Hawk trainer. --Owen1983 (talk) 14:35, August 25, 2014 (UTC)
Unlock this page. This information is incorrect.

Su35S (talk) 17:56, September 22, 2014 (UTC)
I think this is VERY similar to the L-39 Albatros. It fits MUCH better than the F-5
ACE Of Scarface
(
talk
) 22:05, April 8, 2015 (UTC)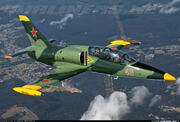 This was discussed before, the plane is based on both the F-35 and the Albatross, one inspiration shouldn't be a reason to remove the other.

(talk/stalk/blog) 00:05, April 9, 2015 (UTC)
Toyo94 (talk) 14:20, November 18, 2016 (UTC)
While the nose, canopy and the area around exhaust nozzle are based on L-39 Albatros, I noticed a heavy resemblence with the Yugoslavian J-21 Hawk and G-2 Seagull  manufactured by SOKO. Especially design of air inlets and how they connect to wings .
About the livery
The black livery on the Besra looks very similar to the ones painted black for the production of Top Gun,and those were F-5E/Fs like the Besra,Top Gun reference maybe?Also I think the Besras are not just trainers,I think they are aggresors too
Liu Hugo Hugo (talk) 12:57, November 25, 2015 (UTC)LiuHugoHugo
Community content is available under
CC-BY-SA
unless otherwise noted.