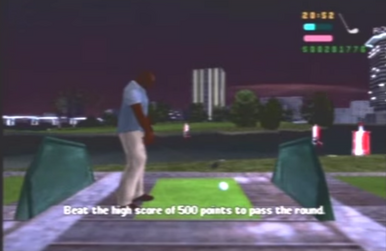 Swinger's Club is a golf minigame in Grand Theft Auto: Vice City Stories. It is located in the driving range in Leaf Links Golf Club and is unlocked after completion of the Gonzalez mission, Home's on the Range.
About the mission
This driving range side mission uses the same mechanics as the mission, Home's on the Range.
Objective
The objective of the mission is to score a minimum of 500 points with five shots on the driving range. A point is scored for each meter the ball is hit, and 50 bonus points are awarded for hitting the buoy in the middle. The player must hit a golf ball as far and as accurately as possible. The accuracy and the strength of the swing is displayed by a power and aim bar on the bottom of the screen.
There are five rounds and a point system. The point system is displayed in meters. If the player's swing makes the golf ball travel 100 meters their score will be of 100. The score of each round is added to the previous round in the end of each swing (which is a round).
There is also a buoy (which is the place you have to aim your swing at) in the game zone (a small river). If the player hits the buoy, he will get a bonus of 50 points. The reward for completing the mission is $1000. The game can be replayed in an effort to beat your previous high score, but the $1,000 is only awarded once.
Video Walkthrough
Trivia
The name of the mission is a double entendre, also referring to establishments where couples swap partners for sexual intercourse.