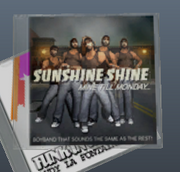 Sunshine Shine is a boy band featured in Grand Theft Auto: Liberty City Stories.
Their only known single is "Mine Until Monday", which can be heard on Lips 106 as the third song in the track list, and found in bars and safehouses in Grand Theft Auto IV and Grand Theft Auto V. It is also available as a ringtone from Vipluxuryringtones.com.
Sunshine Shine also have a star on the Vinewood Walk of Fame in GTA V.
The band's tagline is "Boyband that sounds the same as the rest!". Sunshine Shine was due to perform a concert in Paulie's Revue Bar on July 10, 1998, but the concert was later cancelled for unknown reasons.
The song "Mine Until Monday" was written and produced by Will Morton, while the vocals were done by Paul Mackie and Raff.
Description
Satisfy your boy band fix with this addictive pop concoction that will be flaming up the charts. Picture the perfect male pop star in a tight white tank top, baggy mechanic's jeans, just a touch of eyeshadow, and hair that's been teased for a half hour with the manly hands of their stylist. Now multiply that by five and you've got Sunshine Shine, the band that's been singing together making beautiful harmonies since they first met each other in the juvenile home's showers. Moving up the charts faster than a snake can find a hole in the ground, "Mine Until Monday" is one of LIPS106's "Pops Hit" favorites.
Gallery
Trivia
The members of Sunshine Shine use the model of the black crack dealer pedestrian from Grand Theft Auto: San Andreas. The posing the band does on the picture is also taken from the dancing animation in GTA San Andreas.
Their tagline and description on the official Lips 106 website is a mockery of the boyband phase of the late 1990s, which included bands such as The Backstreet Boys, Boyzone, NSYNC and the like. Their description also allures that the band might be closeted homosexuals, a stereotype of boyband members.
Video
Community content is available under
CC-BY-SA
unless otherwise noted.