"
Smart-casual, shabby-chic, modern-vintage, mass-produced fashion. As unsure of its identity as the androgynous 20-somethings who shop there.
"
— Description at
Bawsaq.com
.
Suburban, formerly known as Sub Urban, (BAWSAQ: SUB) is a clothing store that appears in Grand Theft Auto: San Andreas, Grand Theft Auto IV, Grand Theft Auto V, and Grand Theft Auto Online.
Description
In Grand Theft Auto: San Andreas, Sub Urban is unlocked after "Nines and AKs". It is one of three clothing stores initially made available in the game (alongside Binco and ProLaps). Presumably marketed towards those interested in modern urbanwear, the store's interior is decorated in a gritty urban theme, and even features a stage. Radio X can be heard playing inside Sub Urban stores. There are three Sub Urban outlets in the state.
The brand is mentioned in Grand Theft Auto IV, where it is advertised on the Designerslave.com website and owns the White Widow brand. It is sold in the Go Out store on East Island City, with the logo from GTA San Andreas on it. An alternate logo also exists in IV which features the name in block letters, although "Sub" and "Urban" remained separate. This logo would serve as a prototype for the logo that would debut in Grand Theft Auto V.
In Grand Theft Auto V, the stores reappear as accessible clothing stores. The stores replace the grungy urban theme seen in San Andreas in favor for a cleaner and more modern look in its stores, featuring brick or plaster walls, wood or concrete flooring, and neon colors and lights, a style reflecting contemporary hipster aesthetics of the early 2010s. Its logo has been updated to feature block lettering that was prototyped in GTA IV and the store has been re-named as one word. It serves as a replacement for the Modo stores of Liberty City, selling mid-range clothing. The player can buy stocks from them on the Bawsaq.com website. Their clothing stores, along with Binco's, play songs from Radio Mirror Park.
Influence
Suburban appears to be based on Urban Outfitters, judging by the name and the "hipster" clothing it sells.
Clothing in GTA San Andreas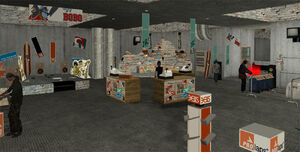 "
You want to be a rapper, but live in the suburbs and get driven around by mom? Then this is the place for you. They got everything from east and west coasts, so you can look ridiculous no matter what your musical tastes.
"
—
Grand Theft Auto: San Andreas
Website
Sub Urban may be considered a lower-mid range clothing outlet, and like Binco, specializes in generic attire or urbanwear popular among street gangs. However, items on offer in the store generally cost more than those in Binco, though they are still priced reasonably as most of them still cost below $100.
For a comprehensive list of clothing available from Sub Urban in GTA San Andreas, see /Clothing in GTA San Andreas.
Items in GTA V
Locations
Grand Theft Auto: San Andreas
Grand Theft Auto V
There are 5 locations in San Andreas:
Featured Brands
This is a list of featured brands Suburban is known to carry.
GTA San Andreas
Mountain (advertised on billboards)
Ranch (advertised on billboards)
SEMI (advertised on billboards)
Wanabe (advertised on billboards)
GTA V and GTA Online
Gallery
Trivia
General
Grand Theft Auto: San Andreas
Grand Theft Auto V
See Also