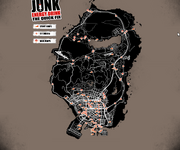 There are 50 stunt jumps in Grand Theft Auto V and Grand Theft Auto Online. To achieve 100% completion in GTA V, the player needs only to complete 25 out of the 50, but for the Achievement/Trophy "Show Off", the player must complete all jumps.
Description
If the player is successful in performing a given jump, the game will report "Stunt jump completed" then "XX Stunt Jumps remaining" or "Stunt jump completed again"; if unsuccessful, the game will report "Not good enough" or "Stunt Jump Failed". Some jumps require the player to travel a certain distance to be considered successful, while others require the player to simply land the jump. Note that during Mission Replays, stunt jumps are not recorded despite the completion graphic appearing. They have to be performed in Story Mode to count towards 100% Completion and the Achievement.
Jumps are greatly aided by use of motorcycles due to their speed, size and ease of control. Some jumps are almost impossible without motorcycles. Franklin Clinton's special driving ability is also beneficial for these jumps. Regardless of vehicle or character, vehicles can be controlled in the air by rotating the anolog stick. 
Stunt Jump Locations
| | | |
| --- | --- | --- |
| | This article or section is Under Construction. | |
Video
Community content is available under
CC-BY-SA
unless otherwise noted.