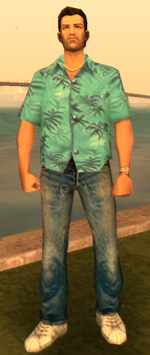 The Street Outfit is one of the 12 unlockable outfits in Grand Theft Auto: Vice City.
Description
It is Tommy Vercetti's default clothing, and is the first outfit Tommy wears in GTA Vice City. It consists of a blue and green Hawaiian shirt, blue stonewashed jeans and white shoes.
The outfit spawns in Tommy's suite in the Ocean View Hotel, Tommy's office in Vercetti Estate, (after completing the mission Rub Out), and the rooftop of the Hyman Condo after purchasing the safehouse. Changing into the outfit will remove a two star wanted level, even if the player is already wearing the outfit. If Tommy gets Wasted or Busted, he will revert to the Street Outfit.
The outfit is a reference to the 1983 film Scarface, as Tony Montana wears a similar outfit (consisting of a Hawaiian shirt and jeans) when he arrives in Miami, and primarily in the first part of the film. The outfit may also be a reference to Detective Larry Zito from Miami Vice, who was known for wearing vibrant Hawaiian/Aloha shirts.
Trivia
Although donning the Street Outfit (like all the outfits in the game) costs no actual money, a total of '$50' is added to the "Fashion Budget" section of the game's "Stats" menu every time player changes into it (even if the outfit is already being worn).
Community content is available under
CC-BY-SA
unless otherwise noted.