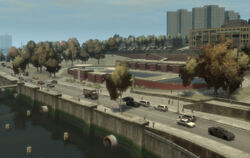 Steinway Park, also reffered as the Municipal Pool[1], is a large public park located between Concord Avenue and Franklin Street in Steinway, Dukes. it appears in Grand Theft Auto IV and Grand Theft Auto: Chinatown Wars.
Character
The park contains three large outdoor public swimming pools, trees, a basketball court, a main building and a vast amount of open space. Many pedestrians can be seen hanging around the place. However, the park is poorly maintained, indicated by the high amount of trash and dirt, specially near the pools.
The large swimming pool in the middle has markings, indicating it is a short course swimming pool. The pool to the south has two diving boards that the player can climb up using a stair at the back and jump into the water. The pool to the north is empty and has been converted into a skateboarding ramp.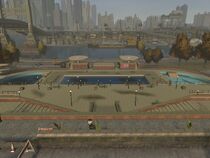 The park is near the
Humboldt River
, and thus offers a great view of
Charge Island
and the Algonquin skyline, specially the
East Borough Bridge
,
Lancaster
and
Middle Park East
.
It is based on Astoria Park in Queens, New York.
Transportation
The closest train station to the park is the Dukes Boulevard Station, which is closed for maintenance. The closest station in service is the Huntington Street Station in Cerveza Heights. A tunnel connects this to Dukes Park, and a pier is located across Franklin Street, making the park easily accessable with a boat.
Missions
In Grand Theft Auto IV, the player can kill Scott Guzowski and his gang on a Most Wanted mission. Salt in the Wound, the Climax mission in Grand Theft Auto: Chinatown Wars begins here.
Collectables
Two Pigeons can be found in the park: One on top of a diving board on the southern pool and the other inside the tunnel that leads to Dukes Park. A Washington for Stevie's Car Thefts is located on Franklin Street, opposite the swimming pool in the park. In order to complete a stunt jump located on Concord Avenue, the player needs to land on the swimming pool area.
Gallery
See Also
References
↑ Reffered as Municipal Pool by Wade Heston during the mission Salt in the Wound in GTA Chinatown Wars.
Community content is available under
CC-BY-SA
unless otherwise noted.