Roblox: DeepWoken - The Loop
Play Sound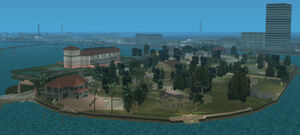 Starfish Island is a large oval-shaped island at the center of Ocean Bay, Vice City, that appears in Grand Theft Auto: Vice City and Grand Theft Auto: Vice City Stories.
Description
Located between southern Vice City Beach and Vice City Mainland, Starfish Island is a wealthy district containing lavish mansions and large estates with swimming pools, large garages and parked speedboats. There are also two swimming pools in the shape of a Rockstar logo and a bikini clad woman on the island in the yards of two mansions.
The Patrol Invest Group provide protection for most of the island's residents while the estate has its own gangs for protection, Diaz's Gang and the Vercetti Gang. VCPD officers however, are sometimes seen chasing the Patrol Invest Group guards.
The island is home to drug baron Ricardo Diaz until 1986, when he is killed in a large shoot-out involving Tommy Vercetti and Lance Vance, who take over the estate.
In Grand Theft Auto: Vice City Stories, the island is the only region other than the western section of Vice City that is unlocked from the very start of the game.
The island also exists in the HD Universe of the GTA series, possibly with the HD counterpart of Vice City. The celebrity Al Di Napoli is from Starfish Island.
Influence
Starfish Island's design is likely to be inspired by the many residential islands, natural or artificial, that link Miami Beach and mainland Miami, including the Venetian Islands along the Venetian Causeway, and Palm Island, Hibiscus Island and Star Island adjoining the MacArthur Causeway.
Residents
3D Universe
HD Universe
Stationary vehicles
Grand Theft Auto: Vice City
Grand Theft Auto: Vice City Stories
Trivia