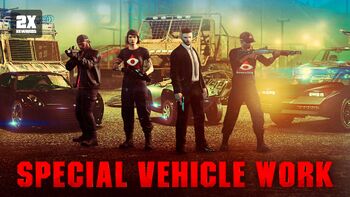 Special Vehicle Work are a series of missions featured in Grand Theft Auto Online as part of the Import/Export update.
Overview
Special Vehicle Work are Special missions planned by SecuroServ and prepped with specially modified vehicles. Completing a mission will unlock any of the special cars involved in each mission at a discounted rate in Warstock Cache & Carry. In order to unlock a mission, the player has to complete their respective numbers of "Vehicle Cargo" Missions, with at least 32 missions to unlock every mission. Every mission only requires two to four players and is unlocked at Rank 1.
List of Missions
Getting started
On the SecuroServ computer at the office, the player only needs to select the "Special Vehicle Work" option, select the desired mission and click on the "Launch Mission" button. A confirmation message will appear on the screen if the player desires to do the mission. If confirmed, a lobby screen appears as in every match. There are options for the missions, including an exit type via helicopter or a land vehicle. Once everything is done, the host can confirm to initiate the Special Vehicle Work mission. Associates will automaticly be invited and if they're in the office, they will automaticly join.
In the mission
Special Vehicle Work missions should not be very difficult and would not take more than 15 minutes, depending of the player's gameplay style. However, players must have good coordination, as these missions often requires teamwork, mainly for turreted vehicles and coordinated tactics, such as defending another player from enemies. Having the neccesary shooting and driving skills, these missions will be fairly easy to complete.
Rewards
All the involved vehicles can be unlocked at Warstock Cache & Carry with a SecuroServ trade price by completing their missions. If purchased, these are stored at the Underground Garage and every time the vehicle is destroyed, a new one will be delivered to the aforementioned garage.
Gallery
See Also