"Everybody has heard of South Los Santos, mostly because it gets shouted out so much in gangster rap. An economically depressed, predominantly African-American area of the city, stigmatized in the media as a hotbed for drugs, crime and gangs, South Los Santos largely lives up to that reputation with long-term rival gangs Ballas and Families still warring over turf to this day. Pick the color of your outfit carefully before visiting."
―Grand Theft Auto V digital manual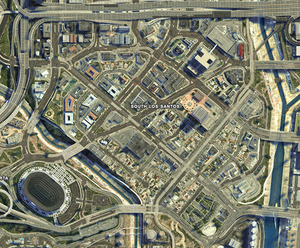 South Los Santos is an area in Los Santos in Grand Theft Auto V.
Character
It contains 4 residential neighbourhoods, the city of Davis, and the LSX.
South Los Santos, like neighbouring East Los Santos, is a poor and dangerous area. This part of Los Santos is characterized by street gangs that often fight with each other, resulting in an unsafe place to live in. South Los Santos is extremely different from North Los Santos. The stores, houses, and apartments are all rundown and in poor condition. Streets such as Grove Street and Forum Drive are filled with gang members that will attack anyone who dares to wander into their territory.
The area is based on the real-life South Central neighborhoods in Los Angeles.
Demographics
South Los Santos is home to the poorest people in the entire city. The neighborhoods Chamberlain Hills, Strawberry, and Davis are predominantly African-American, while Rancho is predominantly Hispanic. There is also an Armenian presence in La Puerta.
Gangs
Neighborhoods/Cities
Places of Interest
Businesses
Albany Dealership (Crenshaw Motors Ford)
City Paints Inc. (City Fibers Inc.)
Deep Pile Nation (Zeb's Quality Cleaners)
Dollar Pills (Ralphs)
Go & Wash (Coin Laundry)
Green Leaf Smokers Emporium
Hands on Car Wash (Crown Car Wash)
Lucky Plucker (Haven Burgers)
Panache Laundering (Flaire Cleaners Laundry)
Rancho Church (Bethesda Temple Apostolic Church)
Ring of Fire Chili House (Chili Factory)
Southern Tiles (Xefirotarch)
Sud's Quality Cleaners (Zeb's Quality Cleaners)
Suds Law Laundromat (Cameo Cleaners)
The Tahitian (Stevely Arts Building)
Timmy's Flowers (Conroy's Flowers)
Notable Residents
Gallery