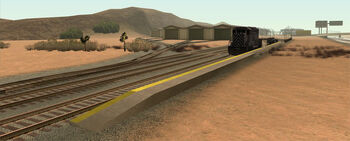 The Sobell Rail Yards are a group of railway storage buildings located in eastern Las Venturas, San Andreas, and are part of the Brown Streak Railroad.
Description
The rail yard consists of six locomotive sheds connected to six siding lines branching out from the mainline. The sheds cannot be accessed and no locomotives use the sidings.
Immediately adjacent to the rail yard is a small, narrow open-air platform with a ticket machine. Despite not being an officially designated station, passengers can be seen alighting here, and some can be seen buying tickets on the platform. The rail yard is somewhat isolated from the rest of Las Venturas, as it is only accessible at street level by crossing the Julius Thruway.
The rail yard is not one of the required stops when performing rail delivery missions.
Weapons
Trivia
The station may be based on the now defunct Las Vegas Amtrak Station which lacked any kind of platform shelter besides the main building which was set away from the train tracks, this station is also closer to Downtown as was the Las Vegas Amtrak Station.
The rail yard is named after Morton Sobell, an American-born Soviet spy during the Second World War.
Community content is available under
CC-BY-SA
unless otherwise noted.