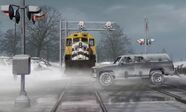 Snow is a rarely featured weather pattern in Grand Theft Auto games. Only a few games of the series incorporated it. Snow first appeared in Grand Theft Auto: San Andreas in the main story mission Saint Mark's Bistro and has made a few other appearances since then.
Appearances
Edit
Director Mode's snowy weather is also able to be activated in Grand Theft Auto V using the in-game weather cheat code, although it is not as highly detailed as the snow in GTA Online, while trainers can implement the weather in the same way it appears in GTA Online.
During snow events like the Festive Surprise Christmas event, snow will form on anything dropped, including dropped parachutes and car parts. However, it will not form on car roofs.
In Grand Theft Auto IV's internal files, there are some unused white textures for traffic lights and lampposts; their file names have an "s" at the end. This means that, at some point in development, snow was intended to be featured in the game.