Sinner Street is a street in Mission Row and Textile City, Los Santos, in Grand Theft Auto V and Grand Theft Auto Online. It runs from Adam's Apple Boulevard in the south to Integrity Way in the north. The street has connections to Vespucci Boulevard, Atlee Street, San Andreas Avenue and Sinners Passage.
Places of Interest
Food Market Wall Mural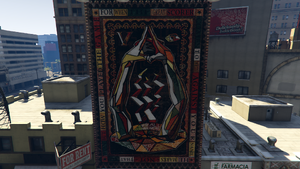 Located on the street-facing wall of the Food Market is a large mosaic-like wall mural. It depicts two arms reaching out of a disc with a poem within it, with a different poem lining the outer edge of the mural. There is also a Roman numeral V and an eye depicted in the mural. The mural itself is based on the infamous street art piece by Joanna Poethig "Calle de la Eternidad"[1], which was located on Broadway Boulevard in Los Angeles before it was renovated in 2012[2]. The poem on the outer border of the mural is an inaccurate reference to the final line of "Alumnus Football" by Grantland Rice[3]: "For when the Great Scorer comes to write against your name, He marks - not - that you won, but how you played the Game."
Businesses
Binco (accessible interior, corner of Sinners Passage)
Broker (corner of Integrity Way)
Digital Den (corner of San Andreas Avenue)
Food Market
L.S. Gentstyle
Mama's Grocery
Payback Time
Santos Farmacia
Sound Sanctuary Ind.
Wall Fabric
Wholesale Mart (corner of San Andreas Avenue)
References