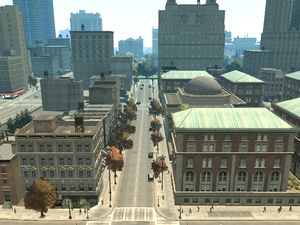 Silicon Street is a street featured in the HD Universe rendition of Liberty City.
Located in Middle Park East and Middle Park West in Algonquin, the street was featured in Grand Theft Auto IV and its episodes.
Silicon Street is a one way street, running from west to east.
No missions take place on this street.
Intersections
Like Obsidian, Pyrite and Ruby Streets, Silicon runs up to Middle Park, ends, and resumes on the other side of the park.
West
East
Places of interest
Notable places along Silicon Street include:
Notable Residents
Gallery
Trivia
Community content is available under
CC-BY-SA
unless otherwise noted.