Arcane: League of Legends - The Loop
Play Sound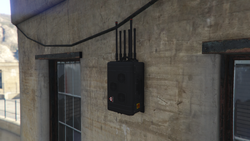 Signal Jammers are a collectible in Grand Theft Auto Online, added as part of The Diamond Casino Heist update, released on December 12, 2019.
Description
"
Did you just take a SecuroServ transmitter offline? Our old friend from the Pacific Standard Job, Avi Schwartzman, has been saying the government is blocking his radio transmissions for years. If you can destroy the rest of the signal jammers like that one, he'll make it worth your while.
"
— Lester's text after destroying the first signal jammer.
Destroy Signal Jammers to earn Cash and RP. Destroy them all to unlock Avi Schwartzman as a Support Crew Member in The Diamond Casino Heist.
You can track how many Signal Jammers you have destroyed via the Inventory section of the Interaction Menu.

There are fifty Signal Jammers scattered throughout the state of San Andreas.
Once a jammer is destroyed, it will reward the player with $2,000 and 1,000 RP. If the player destroys all 50 of them, they will be rewarded with an additional $50,000, totaling $150,000. As a bonus reward, Avi Schwartzman will become available as support crew for The Diamond Casino Heist.
Avi Schwartzman has now been unlocked as a crew member. He can now be hired as a Hacker as part of The Diamond Casino Heist.
Signal Jammers: 50/50
Your Maze Bank account has been credited with $50000.
"
You got 'em all! Avi is broadcasting, and the only thing stopping people listening is the quality of the content. I told him you might be in need of a hacker in the future (maybe for a casino job?) and he's happy to help in any way he can.
"
— Lester's text
The jammers can be destroyed with almost any weapon, and they can be locked on with homing missiles, such as those on vehicles or with the Homing Launcher, making their discovery and destruction much easier.
There are what appears to be two main antennae with red lights that blink, making them especially useful for spotting the jammers at night. If the player gets close enough, a two-tone beeping can be heard in time with the lights; this is an audio cue to help locate it.
Locations
| Ref Number | Location Description | Image | Map |
| --- | --- | --- | --- |
| 1 | At the top of the control tower at Los Santos International Airport. | | |
| 2 | At the top of the Miriam Turner Overpass, at its northeastern side. | | |
| 3 | At the top of the northeastern's main entrance of the Maze Bank Arena, between the words "Maze" and "Bank". | | |
| 4 | At the top of the Los Santos State Gas Company silo in Cypress Flats. | | |
| 5 | At the eastern side of the Ocean Motion container ship in north Terminal, between the words "Safety" and "First". | | |
| 6 | On a silo in southeastern Murrieta Oil Field in East Los Santos. | | |
| 7 | At St. Fiacre Hospital in El Burro Heights. | | |
| 8 | On a billboard on Popular Street, north of Casey's Diner, above the words "Ban windmills". | | |
| 9 | At the top of the northeastern side of the Central Los Santos Medical Center in Strawberry, between the words "Central" and "Los". | | |
| 10 | At the Hookah Palace sign above the Fame or Shame advertisement in Pillbox Hill, on the second "O". | | |
| 11 | On the antenna at the top of the Arcadius Business Center in Pillbox Hill. | | |
| 12 | At the Vespucci Helipad on Shank Street in Puerto Del Sol, Vespucci. | | |
| 13 | At the center of the Ferris Whale in the Pleasure Pier amusement park, on the Del Perro Pier. | | |
| 14 | Above the clock of the Clock Tower Building on San Andreas Avenue in Del Perro. | | |
| 15 | At the top of the Elgin House building on North Rockford Drive in Morningwood, on a Wiwang AC unit. | | |
| 16 | Above the main entrance of the Richman Hotel on West Eclipse Boulevard. | | |
| 17 | At the top of a yellow crane in West Vinewood, southeast of Eclipse Towers. | | |
| 18 | At the top of the Rockford Hills City Hall. | | |
| 19 | At the top of the Pacific Standard Public Deposit Bank in Downtown Vinewood, above the large Flow Water advertisement. | | |
| 20 | On the antenna at the top of the Badger Building in Hawick. | | |
| 21 | Above the stage of the Vinewood Bowl in Vinewood Hills. | | |
| 22 | At the Land Act Dam, on the western side of the dam building in the southwest. | | |
| 23 | At the NOOSE Headquarters, on the western side of the facility. | | |
| 24 | At the Bishop's Chicken restaurant in the Tataviam Truckstop, on Palomino Freeway. | | |
| 25 | At the tallest chimney of the Palmer-Taylor Power Station facility on Senora Way. | | |
| 26 | On a wind turbine in the southern area of RON Alternates Wind Farm, west of Palmer-Taylor Power Station. | | |
| 27 | At the Stoner Cement Works building in the Grand Senora Desert, north of La Fuente Blanca, on the company's logo. | | |
| 28 | At the top of the antenna located just north of the Vinewood Sign, on Mount Haan Drive. | | |
| 29 | On the concrete sculpture in front of the Galileo Observatory in Vinewood Hills. | | |
| 30 | North of the Kortz Center, at the top of the Low Rotunda building, on the "O" of "Kortz" (inner yard facing logo). | | |
| 31 | On a pedestrian footbridge crossing the Great Ocean Highway in Chumash, at the northern end of Ineseno Road. | | |
| 32 | At the top of the main building of the Marlowe Vineyards in Tongva Hills, Los Santos County. | | |
| 33 | On the north side of the Hill Valley Church on Route 68, Great Chaparral. | | |
| 34 | On the broadcasting tower next to the Rebel Radio Building in the Grand Senora Desert. | | |
| 35 | Next to an antenna on the northern side of Bolingbroke Penitentiary. | | |
| 36 | At the You Tool store on Senora Freeway in the Grand Senora Desert, on the company's logo above the main entrance. | | |
| 37 | At the top of a large white pipe at Humane Labs and Research, in the San Chianski Mountain Range. | | |
| 38 | At the top of the Union Grain Supply Inc. storage silos on Senora Freeway, east of the Alamo Sea. | | |
| 39 | At the top of the broadcasting tower in Sandy Shores, next to the sheriff's station. | | |
| 40 | At the unnamed pier on the north shore of the Alamo Sea. | | |
| 41 | At the aerial tramway station at the peak of Mount Chiliad. | | |
| 42 | At the top of a LSDWP water tower, on the western section of Grapeseed Avenue in Grapeseed. | | |
| 43 | On a chimney of the house in the El Gordo Lighthouse settlement. | | |
| 44 | At the peak of Mount Gordo, on a red and white broadcasting tower. | | |
| 45 | On the fake rocket at the Up-n-Atom Burger restaurant in the Procopio Truck Stop area along the Great Ocean Highway. | | |
| 46 | At the top of the main building of the Clucking Bell Farms facility in Paleto Bay. | | |
| 47 | At the Raton Canyon Bridge, an arch rail bridge that crosses over the Cassidy Creek river, west of the Alamo Sea. | | |
| 48 | At the top of the radio tower above the Altruist Camp, in the Chiliad Mountain State Wilderness. | | |
| 49 | At the Hookies restaurant in North Chumash, Blaine County, on the rooftop sign. | | |
| 50 | At the top of the control tower in Fort Zancudo. | | |
Gallery
Video