This article or section contains information about a subject scheduled to be featured in upcoming content.
Please do not add unconfirmed, leaked or speculative content unless it can be confirmed by its release or by Rockstar Games.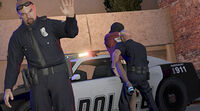 "Shanda Murphy was arrested by police for offering intercourse rather than the oral normally expected by officers receiving her services."
―Los Santos Police Anti-Crime Blotter.
Shanda Murphy is a character in the Grand Theft Auto series, mentioned in the main website of Grand Theft Auto V.
Murphy is a prostitute operating in Los Santos. She was arrested by the LSPD for not offering their expected oral sex, but rather intercourse.
Source