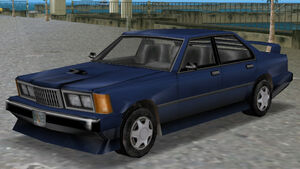 The Sentinel XS is a sportier variant of the regular Sentinel luxury car in Grand Theft Auto: Vice City, Grand Theft Auto: Vice City Stories and Grand Theft Auto IV. The car is related to the Mafia/Leone Sentinel, gang car of the Leone Family in Grand Theft Auto III and Grand Theft Auto: Liberty City Stories.
Description
Ever since the Sentinel's introduction in GTA III, a sportier variant has been present in every GTA game, excluding GTA San Andreas. In GTA Vice City Stories, the Sentinel XS is the preferred gang car of the Mendez Cartel. The Sentinel XS's main visual distinction from the regular Sentinel is its spoiler and rear window grilles; performance-wise, the car is faster than the regular Sentinel. The Sentinel XS in GTA Vice City and Vice City Stories are suggestively based on the BMW M5, although the car, like regular Sentinels, is still visually similar to the E23 7 Series BMW, which was not been used in the M5 series. In GTA Vice City Stories, the Sentinel XS is not given the same aesthetic modification as the game's Sentinel, resulting in the car appearing more distinctive in the game. The Sentinel XS has a different engine sound than the regular Sentinel.
GTA IV features an updated Sentinel XS, however it is no longer considered a distinct vehicle — it handles with more rigity as its suspension has been hardened so it corners sharper and drifts are now easier compared to the standard Sentinel, and the game refers to the car simply as "Sentinel" when entered. In a nod to the Mafia Sentinel of GTA III and GTA Liberty City Stories it serves as one of two cars (the other being the PMP 600) that are usually driven by the Mafia. Its visual differences include "XS" badging, and a rear spoiler sporting "STD" decals. STD stands for "Sentinel Tuning Division", a play on Subaru's STi marque (odd because this vehicle does not at all resemble a Subaru) and BMW's in-house tuning division, BMW M, but also a reference to the acronym for "sexually transmitted disease". The features of the GTA IV Sentinel XS emulate the BMW M3 CSL.
Locations
GTA Vice City
GTA Vice City Stories
GTA IV
Trivia
See also