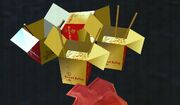 Secret Valley is a Chinese takeout restaurant in Grand Theft Auto: San Andreas.
Description
Secret Valley restaurants are located in Downtown San Fierro and Las Barrancas. Carl Johnson is able to take girlfriends out on dates to this location. Boxes of Secret Valley fried rice can be found inside most burglary houses.
The entire interior is unsolid, except for some chairs. This is due to the minor role the interior played in the game.
The lightning condition of the interior is rather strange, depicting a darker half. However, the darkened area can be seen clearly via teleportation mods and editing the game's IPL file.
A glitch appears at a vending shelf, making the middle wall invisible.
Strangely, the cover art of magazines founded in some burglary houses depict the secret valley restaurant in another different interior. This interior was never found in game.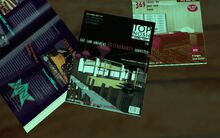 Gallery
Community content is available under
CC-BY-SA
unless otherwise noted.