This article or section needs to be cleaned up to meet the standards of the GTA Wiki.


This page, along with some other ones, just like Paramedic and Firefighter, needs necessary cleanups, including unencyclopedic writing style and too much derogatory words inferring to the player.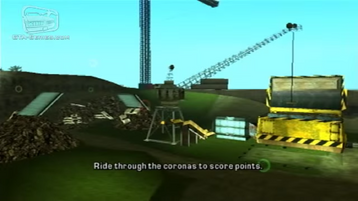 The Scrapyard Challenge is a side mission in Grand Theft Auto: Liberty City Stories. The location of this mission is the Harwood Autocrusher and Junkyard. To start just hop on the Sanchez next to the gray building. Once you start, the goal is to get more than 20 point collecting coronas dotted around the track in under two minutes. Green coronas are the easiest to collect as they are only worth one point. Yellow coronas are a little harder to collect and are worth two points, and red coronas are the hardest to collect and are worth 3 points. Once you get more than 20 points the car crusher now gives you 4 times more money for vehicles than you would normally get. Collecting more than 31 points, which is difficult, will give 8 times more money for vehicles. This challenge is also required for 100% Completion.
Trivia
Video Walkthrough
Community content is available under
CC-BY-SA
unless otherwise noted.