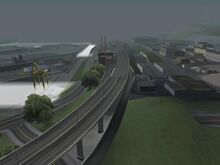 San Fierro Bypass, is an elevated bypass highway in Grand Theft Auto: San Andreas.
Description
The bypass runs from Whetstone to Tierra Robada. It is an elevated four lane bi-directional highway, with two lanes in each direction divided by a central reservation, which passes through the city of San Fierro before crossing the Garver Bridge and terminating at the Robada Intersection in southern Tierra Robada, with entry and exit junctions in various areas of San Fierro. Unlike the other highways in San Andreas, traffic on the San Fierro Bypass is generally slow-moving, except for the traffic crossing the Garver Bridge.
The Bypass appears to be based on U.S. Route 101 ,more specifically the Bayshore Freeway ,whilst the section crossing the Garver Bridge appears to be based on Interstate 80.
Including the Garver Bridge, the highway has a total length of 1.87 miles (3 kilometres).
Exits and advisories
Exits are measured from the junction at a road leading to Flint County (Eastbound) and Missionary Hill (Westbound)
Community content is available under
CC-BY-SA
unless otherwise noted.