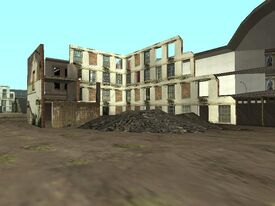 The San Andreas Earthquake is an event mentioned in Grand Theft Auto: San Andreas. At least two significant earthquakes have occurred, in 1988 and 1992.
Description
Like much of the state of California which it is based on, San Andreas suffered occasional earthquakes, the most recent of which took place in 1992, shortly before the beginning of Grand Theft Auto: San Andreas. The earthquake is mentioned several times in the news on radio stations. It is the cause of the closures of the inter-county bridges at the start of the game, which prevents the player from legally leaving Los Santos at the start of the game (despite the fact none of the closed bridges display any overt damage) and preventing residents from travelling across the state.
Four years earlier, in 1988, a much more powerful earthquake struck San Andreas. The earthquake devastated the Doherty area in San Fierro. Several blocks were leveled and buildings were destroyed, with a large section of an overhead roadway in neighboring Easter Basin collapsing. By 1992, most of the rebuilding has been completed, though a derelict patch of land in Doherty remains, and a small section of the damaged roadway in Easter Basin remains.[1]
Inspiration
The earthquake likely references the Loma Prieta Earthquake of October 1989 which caused heavy damage to the San Francisco Bay Area. In particular, a portion of San Fierro's Garver Bridge approach is collapsed in a way similar to the real-life collapses of both the Embarcadero Freeway in San Francisco and the Cypress Street Viaduct in Oakland.
Reference
↑ Grand Theft Auto: San Andreas - City Guides (PC manual) p.34
Community content is available under
CC-BY-SA
unless otherwise noted.