Arcane: League of Legends - The Loop
Play Sound
Sam Houser (born November 3, 1971 in London, England[1]) is the president of Rockstar Games, the company he co-founded with brother Dan, and Terry Donovan. He is one of the main people behind the Grand Theft Auto franchise, being director and producer since Grand Theft Auto III. He is responsible for taking GTA into the 3D-environment era, recreating real cities under fully 3D-engines and turning the series into huge profits during video games sixth generation era.
Grand Theft Auto
Grand Theft Auto III
Credited as executive producer on Grand Theft Auto III, Houser's responsibilities on that game were, in his words, to be "militant on ensuring the game had a look, a sound, a story and a feel that worked." He also appears as an easter egg in GTA III, and GTA Vice City. In both he takes on the role of the Ammu-Nation clerk.
The Gamechangers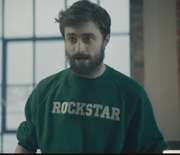 In The Gamechangers, Sam Houser is portrayed by Daniel Radcliffe.
References