---
---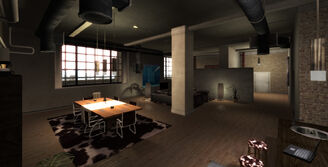 As in previous Grand Theft Auto games, safehouses in Grand Theft Auto IV are available in Liberty City and Alderney for Niko Bellic to use to save the game, watch TV, and a wardrobe to change his clothes. GTA IV has a total of five safehouses, one of which becomes inaccessible early on, and one of which is optional.
The number of safehouses in GTA IV is a sharp reduction from Grand Theft Auto: San Andreas, which offered up to 37 safehouses. Niko acquires his safehouses free of charge, as the player is automatically awarded each safehouse upon completion of specific missions.
Description
Safehouses are redesigned in GTA IV. Instead of spinning save icons, the player approaches the bed within the safehouse, and selects the option to sleep and save their game. Garages used to store vehicles are replaced by yellow-outlined "RESIDENTS PARKING ONLY" printed parking spaces located on the street outside the safehouses. These parking spaces can accomodate a maximum of two cars or two motorcycles, and it can store helicopters e.g, Maverick, or Annihilator. Any damaged vehicles saved in the parking spaces will repair themselves when Niko leaves the area or the player reloads their game. Each safehouse features a working television, though only one features internet access (though the computer in the lobby of the Northwood Penthouse building can be used to access the internet).
Although some safehouses will not be available until certain points in the storyline (and one may be skipped entirely), the player can still save vehicles in the parking spaces outside the safehouse from the beginning of the storyline. Even though the Broker apartment is burnt down during the storyline, its parking space remains usable.
Image
Name
Location
Unlocked by
Broker Safehouse
Mohawk Ave and Bart St,
Hove Beach, Broker
Completing The Cousins Bellic. Unavailable after Roman's Sorrow, though the parking space can still be used.
South Bohan Apartment
Joliet St and Rocket St,
South Bohan, Bohan
Completing Roman's Sorrow.
Middle Park East Safehouse
Albany Ave and Pyrite St,
Middle Park East, Algonquin
Completing Hostile Negotiation.
Playboy X's Penthouse
Xenotime St and Galveston Ave,
North Holland, Algonquin
Killing Playboy X and sparing Dwayne Forge in The Holland Play. Given to Niko by Dwayne as a reward. If the player chooses to spare Playboy, they cannot save their game at the safehouse, though the parking space can still be used.
Alderney Safehouse
Mahesh Ave,
Alderney City, Alderney
Completing Smackdown for Derrick McReary and A Long Way to Fall for Ray Boccino in Alderney.
See also
Community content is available under
CC-BY-SA
unless otherwise noted.