The Russian Federation, more commonly known as Russia, is a country in northern Eurasia. It is the largest country in the world. From northwest to southeast, Russia shares borders with Norway, Finland, Estonia, Latvia, Lithuania and Poland (both via Kaliningrad Oblast), Belarus, Ukraine, Georgia, Azerbaijan, Kazakhstan, China, Mongolia, and North Korea.
Russia does not use the PEGI system of other European countries, and instead uses its own ratings system.
Between 1922 and 1991, Russia was part of the Union of Soviet Socialist Republics, also known as the CCCP, USSR, or the Soviet Union. Because of this, any games which make reference to the Soviet Union are listed below.
Russia in the Grand Theft Auto Series
General
2D Universe
3D Universe
HD Universe
Grand Theft Auto IV
Many characters in Grand Theft Auto IV were born in the former Soviet Union.
Hove Beach in Liberty City has a vast Russian population, as well as immigrants from other former Soviet Union and Eastern Bloc countries, such as Bulgaria and Yugoslavia.
The Little Gorbachefs restaurant chain in Liberty City is a reference to Mikhail Gorbachev, the last General Secretary of the Communist Party of the Soviet Union (1985-91).
Perestroika is a Russian-owned cabaret club in Liberty City. The club's name translates into English as "restructuring" and is a reference to the political and economic reforms within the Soviet Union during the late-1980s by Mikhail Gorbachev.
Many Burger Shot fast-food restaurants tend to have Russian women working at the cash register.
Vladivostok FM takes its name from the Russian city of the same name, and the Grand Theft Auto IV tracklist includes music from Russian and Ukrainian artists.
Cherenkov Vodka is a Russian vodka brand.
Some female pedestrians may call the protagonist "chuzhoy" ("stranger" in Russian) if they bump into them.
In GTA IV, there are a lot of warnings and signage written in Russian on the Platypus ship.
Grand Theft Auto V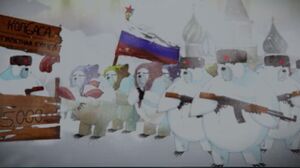 Trivia
In Grand Theft Auto IV, some Russians will comment "If he dies, he dies" when witnessing the death of an NPC. This is a reference to the fourth installment of the Rocky series, in which Russian boxer Ivan Drago beats Apollo Creed to death and uses this line.
Community content is available under
CC-BY-SA
unless otherwise noted.