"They don't make them like they used to, which is a good thing because here at Albany we've completely run out of ideas. Lovingly remodelled, with room for a new suite of personal modifications, the latest edition of our classic Roosevelt represents a new height of criminal refinement, taking you back to the golden age of fraud, racketeering and murder when all you had to worry about were a few charges of tax evasion."
―Legendary Motorsport description.
The Albany Roosevelt Valor is a classic limousine featured in Grand Theft Auto Online as part of the Be My Valentine update.
Design
Grand Theft Auto Online
The Roosevelt Valor is a heavily customizable variant of the Roosevelt. While it retains the body design of its base version, the Roosevelt Valor features whitewall tires, covered spare tires on the sides and two small rear view mirrors over the tire compartments, as well as an updated color scheme.
Current Design Gallery
Performance
Grand Theft Auto Online
The vehicle is powered by what is modelled as a single-cam V12 with 6 double barrel carburettors. The engine is laid in a front-mid layout, laid longitudinally, powering the rear wheels through a single diff. Despite this modelling, the engine is stated to be a 6.2 liter V10 on the website, exerting 115 horsepower. Furthermore, ram intake pipes that are installed via the "Vertical Ram Pipes" (trumpet) modification at mod shops fits 8 pipes on top of the engine block, which would not normally work on top of a V12 model. The power of the piston revolutions causes the engine to shake slightly, much like its cousin, the Fränken Stange.
GTA Online Overview



Vehicle Statistics - Grand Theft Auto V

Acceleration
(0-60 mph in Seconds)
Top Speed
(mph / kmh)
Gears
Engine
Drivetrain
(FWD / RWD / AWD)
Mass
(kg / lbs)
Fuel Tank
Size (litres)

Handling.meta

[?]

N/A
78 / 125
4
N/A
RWD
2420 / 5335
65

Website Statements

[?]

/ Badges

18 Seconds
80 / 129
N/A
115hp 6.2L V10 (Website)
N/A
N/A
N/A

Observed

N/A
N/A
N/A

FMR

SOHC

V12 w/ 6 Double-Barrel Downdraft Carburettors (In-game model)
N/A
Cannot be observed
Cannot be observed

Rockstar Games Social Club

Speed
Acceleration
Braking
Traction
Modifications
Grand Theft Auto Online
This article contains insufficient information and is considered as a Stub. You can help the GTA Wiki by expanding it as much as you can.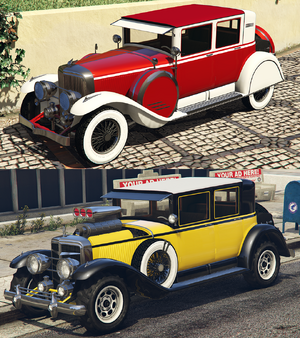 Image Gallery
Grand Theft Auto Online
Prominent Appearances in Missions
Grand Theft Auto Online
This vehicle may be selected randomly as a high-class target source vehicle from SecuroServ during a Vehicle Cargo mission with one of three variations: L4WL3SS, 0LDT1M3R and V4L0R.

This vehicle is classed as a Top-Range vehicle.
Roosevelt Valor "OLDTIMER" is part of the 2-vehicle "End of Empires" Vehicle Cargo Collection.
Locations
Grand Theft Auto Online
Events
Grand Theft Auto Online
Changes
Trivia
General
The word "Valor" is a term used to describe bravery.
The part of the website description about worrying about tax evasion is a reference to mobster Al Capone. He owned a 1928 Cadillac 341A Town Sedan (which the Roosevelt is based on) and was arrested for tax evasion.
Grand Theft Auto Online
Upon closer inspection, the vehicle lacks any driving pedals, this is also found on the Truffade Z-Type and the standard Roosevelt.
The Roosevelt Valor and its regular variant both have a unique stock horn, which is an old Klaxon.

When this horn is selected in the Horn options menu in Los Santos Customs, it sounds identical to the regular Roosevelt's. However, when outside of the garage, it sounds slightly different, with the end of the horn cutting off suddenly.
With the addition of the Lowriders: Custom Classics DLC, the Valor now has the full klaxon horn.

This vehicle can have a hood ornament called "Diamond Wing Badge". This is very similar to the one used on some of the vehicles manufactured by Enus, despite this car being made by Albany. The main difference between the hood ornaments being is the ridge on the wings which is deeper for the Roosevelt.
The "Vertical Ram Pipes" (trumpet) modification applies 8 ram pipes to the vehicle's engine. However, the engine is a V12 as evidenced by the manifolds, which would not normally have only 8 pipes fitted to it, as 8 is not a multiple of 12.
Unlike its regular Roosevelt variant, which has its entire exhaust system missing, the Roosevelt Valor features a single exhaust, albeit placed in a position that makes it barely visible.
See Also
Roosevelt - The standard limousine to which the Valor is a variant of.
References