Fire Emblem Warriors: Three Hopes - The Loop
Play Sound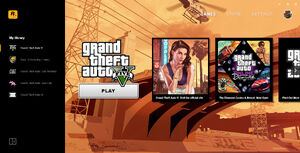 The Rockstar Games Launcher is a digital video game storefront built into a launcher application for Microsoft Windows and operated by Rockstar Games.
Overview
The Rockstar Games Launcher was released on September 17, 2019. The user must sign in with their Rockstar Games Social Club account to access it. The desktop application allows the user to easily access their Rockstar Games PC collection in a single place, across both digital and disc-based titles, including ones purchased from various other digital stores.[1]
The Rockstar Games Launcher comes with a host of features, including the addition of cloud save functionality for all supported titles, the ability to keep the user library updated automatically, and ways to follow all the latest Rockstar Games news directly from inside the Launcher.
Store
Currently, 11 games are available to purchase on the Rockstar Games Launcher:
Game
Rockstar Games Launcher Release date
Original Release date
Includes
Developed by




Grand Theft Auto: The Trilogy - The Definitive Edition

November 11, 2021
November 11, 2021
Grand Theft Auto III - The Definitive Edition
Grand Theft Auto: Vice City - The Definitive Edition
Grand Theft Auto: San Andreas - The Definitive Edition
Rockstar Games
Grove Street Games




Red Dead Online

December 1, 2020
November 30, 2018 (PlayStation 4 and Xbox One)
Red Dead Redemption 2
(Can be purchased separately) [2]
Rockstar Studios




Grand Theft Auto IV: Complete Edition

March 19, 2020
April 29, 2008 (PlayStation 3 and Xbox 360)
The Ballad of Gay Tony
The Lost and Damned
Rockstar North
Rockstar Toronto (PC)




Red Dead Redemption 2

November 5, 2019
October 26, 2018 (Playstation 4 and Xbox One)
Red Dead Online
Rockstar Studios




Grand Theft Auto V

September 17, 2019
September 17, 2013 (Playstation 3 and Xbox 360)
Grand Theft Auto Online
Rockstar North




L.A. Noire: The Complete Edition

September 17, 2019
November 11, 2011 (PC)
Team Bondi




Max Payne 3

September 17, 2019
May 15, 2012 (Playstation 3 and Xbox 360)
Rockstar Studios




Bully: Scholarship Edition

September 17, 2019
March 4, 2008 (Xbox 360 and Nintendo Wii)
Rockstar Vancouver
Rockstar New England




Grand Theft Auto: San Andreas

September 17, 2019 (Removed on October 13th, 2021 in preparation for GTA Trilogy Definitive Edition release)
October 26, 2004 (Playstation 2)
Rockstar North




Grand Theft Auto: Vice City

September 17, 2019 (Removed on October 13th, 2021 in preparation for GTA Trilogy Definitive Edition release)
October 29, 2002 (Playstation 2)
Rockstar North




Grand Theft Auto III

September 17, 2019 (Removed on October 13th, 2021 in preparation for GTA Trilogy Definitive Edition release)
October 22, 2001 (Playstation 2)
DMA Design
Gallery
References
Systems
Fifth generation consoles
Sixth generation consoles
Seventh generation consoles
Eighth generation consoles
Ninth generation consoles
Dedicated consoles
Non-console platforms
Console families
Manufacturers