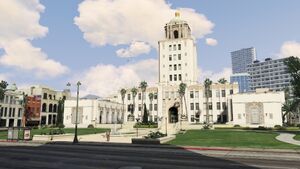 Rockford Hills City Hall is a building in Grand Theft Auto V located in Rockford Hills, Los Santos.
Description
It is located on the corner of Carcer Way and Rockford Drive in Rockford Hills. It is connected via an over-street walkway to the other Rockford Hills municipal building housing the Los Santos Public Library, the Rockford Hills Fire Station and Rockford Hills Police Station.
The building serves as the headquarters for the government of the Rockford Hills city within the greater Los Santos metropolis. Unlike the City Halls in Davis and Del Perro, there is no City of Los Santos coat of arms adorning this building indicating perhaps that Rockford Hills may not share the same political structure as the other two incorporated cities. The flag of the Republic of San Andreas can be seen flying alongside the American flag.
The building is implied to be of historical significance, and it is very ornate and elegant. The interior of the structure itself is inaccessible to the player in the game and plays no role in the storyline.
Influence
The building itself and the information given along with it bears a strong resemblance to the Beverly Hills City Hall.
Prominent Appearances in Missions
Grand Theft Auto V
A soapboxer can be found next to the fountain at the front entrance.
Grand Theft Auto Online
Organization Work
Executive Search - Possible hideout area where a VIP or CEO must survive in for 10 minutes.
Adversary Modes
Gallery
Community content is available under
CC-BY-SA
unless otherwise noted.