Roblox: DeepWoken - The Loop
Play Sound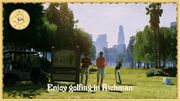 "
Not a lot happens in Richman aside from out-of-touch billionaires hiding behind high walls, too terrified to leave their mega-mansions for fear of having to interact with the common man.
"
— GTAV digital manual
Richman is a rich, multi-billionaire neighborhood located in Los Santos, featured in Grand Theft Auto V and Grand Theft Auto Online. Richman is bordered by Vinewood Hills to the north, Rockford Hills to the east, Morningwood to the south, and Pacific Bluffs to the west.
Character
Richman, like neighboring Rockford Hills, is known as being one of the most affluent neighbourhoods in all of Los Santos. It contains many large classic-style mansions, such as one based on the Playboy Mansion. Sports cars, high-end clothing, and the occasional limousine transporting a wealthy person are seen frequently.
Richman is mostly a residential area, which explains the lack of businesses. The residents live in fine mansions well-suited to their lifestyle. It is said that Vinewood celebrities come here for the golf course and are even living here. The Los Santos Country Club is the only golf course in the entire city, making it a popular recreation area.
Most of Richman consists of the country club. To the north and northeast, there are luxurious mansions sold by famous realtor companies like Lenny Avery. To the northwest, there is a large mansion that stands out amongst the others, based on the Playboy Mansion. People can be seen partying in the Playboy Mansion's swimming pool along with some topless women.
Events of GTA V
Michael, Franklin or Trevor can drive Castro Lagano to the Los Santos Country Club after his falling out with his wife. Later, Michael, Franklin and Trevor are able to play a round of Golf with Castro.
Prominent Appearances in Missions
Grand Theft Auto Online
Influence
The neighborhood is likely based on Bel Air and Holmby Hills.
Notable Residents
Roads and Streets
Places of Interest
Businesses
Collectibles
Gallery
Trivia
The name is perhaps a homage to the district of Richman of the City of San Andreas in the original Grand Theft Auto or Richman in Grand Theft Auto: San Andreas which was also based on Bel Air.

With the inclusion of Richman in the HD Universe version of San Andreas, this makes this district the only one in the series to be featured in all three universes.

The name is also a reference to the fact that wealthy people live in the district.
The name could be a play on Richmond, California, although Richmond is no where near L.A.