The Declasse Rhapsody is a two-door hatchback, first appearing in the Grand Theft Auto IV episodic expansion The Lost and Damned.
Design
The sides and rear of the Rhapsody resemble an AMC Pacer manufactured in the 1970s, while the front bears similarities to an AMC Gremlin. The wheels appear to be aftermarket, bearing a resemblance to American Racing Ansen Sprint mag wheels.
Performance
The car handles similarly to the Blista Compact, although the Rhapsody is an FR layout vehicle, (as opposed to the Blista Compact's FF layout) with more reasonable torque, and lower top speed.
Variants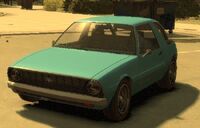 In TLAD, there is a robin egg blue Rhapsody in the mission Off Route. The car is across the street from the player after the starting cutscene. The player can obtain this uniquely colored vehicle by parking it at any safehouse without harming the completion of the mission. A tip to obtain this is to park it outside the Bellic Penthouse on Albany Avenue.
Locations
The Lost and Damned
Trivia
The Rhapsody's name is a reference to the movie Wayne's World, specifically the famous scene where the two lead characters, Wayne and Garth, sing along to the song "Bohemian Rhapsody" by Queen while driving in the "Mirthmobile" (an AMC Pacer). A photograph can be seen within the Rhapsody depicting Wayne and Garth. Furthermore, a "W" (as in "Wayne's World") is seen badged inside and outside the car, also the photo says "Schwing", one of the catch phases used by Wayne and Garth in the movie.
The default radio stations for the Rhapsody are:
The Rhapsody shares its interior with the Stallion, like the Regina, with the Rhapsody badge stamped on the dashboard and doors. As such, the steering wheel on the Rhapsody bears a Classique logo rather than a Declasse logo.
The Rhapsody looks similar to a vehicle featured in the 2006 Atari game Driver: Parallel Lines, which was also called the "Rhapsody".
The Rhapsody's handling appears in the Handling.cfg/GTA V for Grand Theft Auto V but it doesn't appear in-game, suggesting it may have been in the beta.
Easter Egg
Rhapsody's sticker (TLAD)
IThere is an easter egg inside the Rhapsody. The dash of the Rhapsody has a sticker of Wayne and Garth from the movie Wayne's World, which famously features the song Bohemian Rhapsody.
Gallery
Community content is available under
CC-BY-SA
unless otherwise noted.