"The Vapid Retinue began its life as a blue-collar hero: an overpowered, oversteering, gas-guzzler, built and sold for the working man. From those humble beginnings it became one of the most successful rally cars of all time. And now, all that rich history makes it prime hipster bait for the soulful one-percenter for some authenticity. Yep, that's where you come in."
―Southern San Andreas Super Autos description.
The Vapid Retinue is a vintage coupe featured in Grand Theft Auto Online as part of the Smuggler's Run update.
Design
Grand Theft Auto Online
The Retinue is heavily based on the European Ford Escort Mk. I, taking the shape of a vintage 2-door coupe. It also takes inspiration from the 1973 AMC Hornet, especially on the shape of the grille and positioning of the fog lights. The rear lights are taken from the aforementioned Mk. I, but the reverse lights have been included in the tail light group, having a layout that has loose resemblance to those found on the Lada Riva/VAZ 2107.
The interior of the car sports a dial cluster that is common on various muscle cars, but uses several accessories from race-type interiors, as evidenced from its race seats with seatbelts. Like the Panto, the Retinue has "El Quatro" tuner rims that are also available at Los Santos Customs.
Current Design Gallery
Performance
Grand Theft Auto Online
The Retinue has impressive speed and handling, which makes it difficult for it to suffer oversteer and should the Retinue oversteer, it simply corrects itself. This makes it one of the most versatile RWD vehicle for races and weaving through in and out of traffic. It is also proficient in off-road environments thanks to its engine output and decent suspension.
Like the Futo, the Retinue is powered by a four-cylinder engine bearing four throttle bodies.
GTA Online Overview



Vehicle Statistics - Grand Theft Auto V

Acceleration
(0-60 mph in Seconds)
Top Speed
(mph / kmh)
Gears
Engine
Drivetrain
(FWD / RWD / AWD)
Mass
(kg / lbs)
Fuel Tank
Size (litres)

Handling.meta

[?]

N/A
87 / 140
4
N/A
RWD
900 / 1984
N/A

Website Statements

[?]

/ Badges

N/A
N/A
N/A
N/A
N/A
N/A
N/A

Observed

4.5
120/193
4

FR

DOHC

Inline-4 w/ 4 throttle bodies (In-game model)
RWD
Cannot be observed
Cannot be observed

Rockstar Games Social Club

Speed
Acceleration
Braking
Traction
Modifications
Grand Theft Auto Online
Category
Modification
Price
Image
Armor
No Armor
$1,000
Armor Upgrade 20%
$7,500
Armor Upgrade 40%
$12,000
Armor Upgrade 60%
$20,000
Armor Upgrade 80%
$35,000
Armor Upgrade 100%
$50,000
Brakes
Stock Brakes
$1,000
Street Brakes
$20,000
Sport Brakes
$27,000
Race Brakes
$35,000
Bumpers
Front Bumpers
Stock Front Bumper
$2,200
Bumper Mounted Rally Lights
$4,600
Front Bumper Delete
$7,400
Body Mounted Rally Lights
$11,700
Safari Bullbars & Lights
$14,500
Rear Bumpers
Stock Rear Bumper
$2,200
Rear Bumper Delete
$4,600
Chassis
Stock Chassis
$700
Roll Cage and Chassis Upgrade
$1,100
Engine
EMS Upgrade, Level 1
$9,000
EMS Upgrade, Level 2
$12,500
EMS Upgrade, Level 3
$18,000
EMS Upgrade, Level 4
$33,500
Exhausts
Stock Exhaust
$260
Dual Exit Exhaust
$750
Race Exhaust
$1,800
Big Bore Exhaust
$3,000
Shakotan Exhaust
$9,550
Fenders
Stock Fender
$700
Arch Extensions
$900
Grille
Stock Grille
$200
Extended Chin Spoiler
$750
Drilled Valance
$1,340
Drilled Valance & Splitter
$1,650
Hoods
Stock Hood
$1,600
Hood Pins
$3,000
Carbon Hood
$5,000
Lights
Headlights
Stock Lights
$600
Xenon Lights
$7,500
Neon Kits
Main article: Los Santos Customs/Lights
-
Livery
None
$11,400
Wide Body Stripe
$18,240
Double Body Stripe
$19,380
Dusche Rally Team
$20,520
Redwood Racing
$21,660
Team Xero
$22,800
Ron Performance
$23,370
Retro Rally
$23,939
Stronzo Rally
$24,510
Loss/Theft Prevention
Tracker
Full Coverage
Plates
Blue on White 1
$200
Blue on White 2
$200
Blue on White 3
$200
Yellow on Blue
$300
Yellow on Black
$600
Respray
Main article: Los Santos Customs/Respray Colors
Sell
Sell Vehicle
Roofs
Stock Roof
$200
Sunstrip
$700
Skirts
Stock Skirts
$2,500
Black Rubber Mudflaps
$5,500
Spoilers
None
$6,000
Low Ducktail
$7,050
High Ducktail
$10,000
Extended Ducktail
$13,000
Ducktail Decklid
$14,000
Mid Level Wing
$16,000
Suspension
Stock Suspension
$200
Lowered Suspension
$1,000
Street Suspension
$2,000
Sport Suspension
$3,400
Transmission
Stock Transmission
$1,000
Street Transmission
$29,500
Sports Transmission
$32,500
Race Transmission
$40,000
Turbo
None
$5,000
Turbo Tuning
$50,000
Wheels
Main article: Los Santos Customs/Wheels
Windows
None
$500
Light Smoke
$1,500
Dark Smoke
$3,500
Limo
$5,000
Image Gallery
Grand Theft Auto Online
Video
Locations
Grand Theft Auto Online
Events
Grand Theft Auto Online
Changes
Trivia
General
Grand Theft Auto Online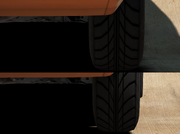 References