Fire Emblem Warriors: Three Hopes - The Loop
Play Sound
"
The Vapid Retinue began its life as a blue-collar hero: an overpowered, oversteering, gas-guzzler, built and sold for the working man. From those humble beginnings it became one of the most successful rally cars of all time. And now, all that rich history makes it prime hipster bait for the soulful one-percenter for some authenticity. Yep, that's where you come in.
"
—
Southern San Andreas Super Autos
description.
The Vapid Retinue is a vintage coupe featured in Grand Theft Auto Online as part of the Smuggler's Run update.
Design
Grand Theft Auto Online
The Retinue is heavily based on the European Ford Escort Mk. I, taking the shape of a vintage 2-door coupe. It also takes inspiration from the 1972-1979 Honda Civic, mainly seen in the shape of the grille and with the additional fog lights, as well as the front and rear bumpers. The rear lights are taken from the aforementioned Mk. I, but the reverse lights have been included in the tail light group, having a layout that has loose resemblance to those found on the Lada Riva/VAZ 2107. The rear lights are also resembles those found in Toyota Corolla E30.
The Retinue is depicted with a short and simplistic body, where the front end features a small bumper that is finished in silver and has two plastic-like overriders on it, while the area below has twin intakes partially covered by the same bumper. On the upper area, the car has a black rectangular section that is narrower on the center and is surrounded by a silver/chrome trim, housing a rectangular grille on the center, large circular headlights with silver trim on the outer sides and four small intakes below the central section. The grille itself also features a silver surrounding, smaller circular headlights and five horizontal dividers, with the central one also finished in silver and bearing the manufacturer logo on the center. The hood is relatively basic and follows the shape of the front end, having an impressed area towards the front and a central line. The area below the windshield features dual vents and the corresponding wipers.
On the sides, the car makes use of small fender flares slanted skirting area and basic body lines between the arches and on the rear section, as well as silver horizontal door handles. The cabin area is relatively basic, having black trim around the side windows, silver trim on the windshield and rear window, and inner pillars on the doors, as well as black, plastic-like mirrors mou ted on the doors, near the A-pillars. There are also small body lines passing on the A-pillars and above the side windows.
The rear section consist of a small trunk with safety pins near the rear window and a single silver detail on the rear center, while the section below the rear window also has dual vents, albeit having a much larger spacing on the center. The rear end features a set of rectangular tail lights with silver trim around, with the outer ones being small turn signals, the middle ones being the main lights and the inner ones split between the upper brake lights and the lower reverse lights. The central section has silver details for the plate lights, while the license plate is bent on the lower side, in a similar manner to cars like the Futo and the Warrener. The lower portion also mounts a bumper with similar features to the front one, while the area below has a single exhaust pipe and muffler on the driver side,
The interior of the car shares the same interior and dials to muscle cars such as the Buccaneer and the Dominator, but uses race-type seats with green seatbelts, derived from various race vehicles.
The primary color of the car is applied on the bodywork and the interior stitching, while the secondary color is applied on the hood. Like the Panto, the Retinue has a set of rims similar to "El Quatro" tuner rims that are also available in Los Santos Customs, and can also support a dedicated color, although only examples generated in Content Creator may have one.
Current Design Gallery
Performance
Grand Theft Auto Online
The Retinue has impressive speed and handling, which makes it difficult for it to suffer oversteer and should the Retinue oversteer, it simply corrects itself. This makes it one of the most versatile RWD vehicle for races and weaving through in and out of traffic.
Away from the tarmac, the Retinue is among the strongest performers, rivaled in its class only by its Mk II successor. The car's relatively light mass and not having excessive amounts of power aids it considerably with its power delivery on loose surfaces. Despite its FR drivetrain layout, the car exhibits phenomenal amounts of grip on dirt and gravel trails, offering even more grip than its successor. Such is the amount of grip offered by the Retinue off-road, drivers should be wary of banks, as combined with the car's relatively high centre of mass, attacking banks too aggressively will very easily tip the car onto two wheels, easily resulting in a roll if improperly managed.
Like the Futo, the Retinue is powered by a four-cylinder engine bearing four throttle bodies, coupled to a 4-speed gearbox and powering the rear wheels. The engine sound appears to be a higher-pitched variation of the one from the Elegy Retro Custom, and also shares the same idle sound.
GTA Online Overview



Vehicle Statistics - Grand Theft Auto Online

Acceleration
(0-60 mph in Seconds)
Top Speed
(mph / kmh)
Gears
Engine
Drivetrain
(FWD / RWD / AWD)
Mass
(kg / lbs)
Fuel Tank
Size (litres)

Handling.meta

[?]

N/A
87 / 140
4
N/A
RWD
900 / 1984
N/A

Website Statements

[?]

/ Badges

N/A
N/A
N/A
N/A
N/A
N/A
N/A

Observed

4.5
120/193
4

FR

DOHC

Inline-4 w/ 4 throttle bodies (In-game model)
RWD
Cannot be observed
Cannot be observed

Rockstar Games Social Club

Speed
Acceleration
Braking
Traction
Modifications
Grand Theft Auto Online
Category
Modification
Price
Image
Armor
No Armor
$1,000
Armor Upgrade 20%
$7,500
Armor Upgrade 40%
$12,000
Armor Upgrade 60%
$20,000
Armor Upgrade 80%
$35,000
Armor Upgrade 100%
$50,000
Brakes
Stock Brakes
$1,000
Street Brakes
$20,000
Sport Brakes
$27,000
Race Brakes
$35,000
Bumpers
Front Bumpers
Stock Front Bumper
$2,200
Bumper Mounted Rally Lights
$4,600
Front Bumper Delete
$7,400
Body Mounted Rally Lights
$11,700
Safari Bullbars & Lights
$14,500
Rear Bumpers
Stock Rear Bumper
$2,200
Rear Bumper Delete
$4,600
Chassis
Stock Chassis
$700
Roll Cage and Chassis Upgrade
$1,100
Engine
EMS Upgrade, Level 1
$9,000
EMS Upgrade, Level 2
$12,500
EMS Upgrade, Level 3
$18,000
EMS Upgrade, Level 4
$33,500
Exhausts
Stock Exhaust
$260
Dual Exit Exhaust
$750
Race Exhaust
$1,800
Big Bore Exhaust
$3,000
Shakotan Exhaust
$9,550
Explosives
Ignition Bomb
$5,000
Remote Bomb
$7,500
Fenders
Stock Fender
$300
Arch Extensions
$900
Grilles
Stock Grille
$200
Extended Chin Spoiler
$750
Drilled Valance
$1,340
Drilled Valance & Splitter
$1,650
Hoods
Stock Hood
$1,600
Hood Pins
$3,000
Carbon Hood
$5,000
Horns
Main article: Los Santos Customs/Horns
-
Lights
Headlights
Stock Lights
$600
Xenon Lights
$7,500
Neon Kits
Main article: Los Santos Customs/Lights
-
Livery
None
$11,400
Wide Body Stripe
$18,240
Double Body Stripe
$19,380
Dusche Rally Team



Sponsors: Atomic, Bank of Liberty, Chepalle, Coolhand Lube, Fixup, Globe Oil, Hardstand, Power Metal, Terroil, Vapid, Whiz and Xero.

$20,520
Redwood Racing



Sponsors: Same as above.

$21,660
Team Xero



Sponsors: Atomic, Chepalle, Coolhand Lube, Globe Oil, Hardstand, Power Metal and Vapid.

$22,800
Ron Performance



Sponsors: Atomic, Chepalle, Coolhand Lube, Fixup, Globe Oil, Hardstand, Power Metal and Vapid.

$23,370
Retro Rally



Sponsors: Same as above.

$23,939
Stronzo Rally



Sponsors: Atomic, Chepalle, Coolhand Lube, Globe Oil, Hardstand, Power Metal and Vapid.

$24,510
Loss/Theft Prevention
Tracker
Full Coverage
Plates
Blue on White 1
$200
Blue on White 2
$200
Blue on White 3
$200
Yellow on Blue
$300
Yellow on Black
$600
Respray
Main article: Los Santos Customs/Respray Colors
-
Sell
Sell Vehicle
Roofs
Stock Roof
$200
Sunstrip
$700
Skirts
Stock Skirts
$2,500
Black Rubber Mudflaps
$5,500
Spoilers
None
$6,000
Low Ducktail
$7,050
High Ducktail
$10,000
Extended Ducktail
$13,000
Ducktail Decklid
$14,000
Mid Level Wing
$16,000
Suspension
Stock Suspension
$200
Lowered Suspension
$1,000
Street Suspension
$2,000
Sport Suspension
$3,400
Transmission
Stock Transmission
$1,000
Street Transmission
$29,500
Sports Transmission
$32,500
Race Transmission
$40,000
Turbo
None
$5,000
Turbo Tuning
$50,000
Wheels
Main article: Los Santos Customs/Wheels
-
Windows
None
$500
Light Smoke
$1,500
Dark Smoke
$3,500
Limo
$5,000
Image Gallery
Grand Theft Auto Online
Video
Locations
Grand Theft Auto Online
Changes
Trivia
General
Grand Theft Auto Online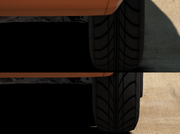 References
↑ Game Files: Light textures for the Retinue are named "cossie_lights".