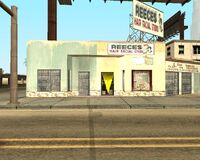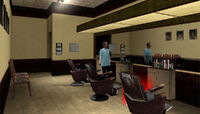 "Elderly hairdresser Reece - A man who gives you what you ask for, and doesn't worry too much how you look. His crimes are many, but most of them are against fashion."
―GTA San Andreas Website.
Reece's Hair & Facial Studio is a local barber shop in Grand Theft Auto: San Andreas owned by Old Reece. It is located in Idlewood, Los Santos, across the street from The Well Stacked Pizza Co. and a shopfront away from a tattoo parlor. This is first introduced in the mission Ryder, in where Ryder tells Carl to sport a new haircut. After the mission, the player can buy different styles of haircuts from Old Reece's at any time.
Haircuts
Refer to Barbers/Hairstyles in GTA San Andreas#Reece's Hair & Facial Studio for a comprehensive list of haircuts offered at Reece's Hair and Facial Studio.
Trivia
If the player looks closely at the pictures on the wall inside the barber shop, the men shown in each picture seem to resemble the Jackson 5, although the same pictures are seen in other barber shops.
Known customers include Carl Johnson, Big Smoke, Beverly Johnson, and Carl Johnson's Father.
Sometimes after CJ leaves the barber shop, Reece can be heard asking CJ to tell Big Smoke to have a haircut despite the fact that Big Smoke is Bald. It is heavily implied that Big Smoke used to have hair somewhere before the events of the game.
Community content is available under
CC-BY-SA
unless otherwise noted.