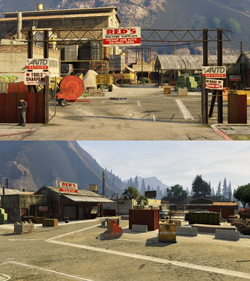 Red's Machine Supplies is a pickup and auto salvage yard in Grand Theft Auto V that is located on Paleto Boulevard in Paleto Bay, Blaine County. The area has a sign at the entrance warning people that a guard dog is within. A Scrap Truck bearing the logo Rogers Salvage and Scrap is outside the area. Inside are various machines manufactured by Brute and HVY. 
Mission roles
Red's Machine Supplies plays a role in the story when the protagonists fight through it in The Paleto Score.
Trivia
A pile of Grade C construction plywood, shown to be manufactured in Ireland, bears the registation "Fap-Fap", a term used widely on the internet referring to masturbation.
The font used for the sign out front is called "Chinese Rocks", which is Red Dead Redemption's official font, making an obvious easter egg.
Community content is available under
CC-BY-SA
unless otherwise noted.