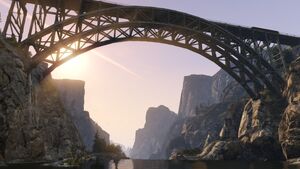 The Raton Canyon Bridge, also known as the Calafia Bridge[1], is a train bridge in Grand Theft Auto V, located in Raton Canyon, Blaine County
Description
The bridge crosses over the Cassidy Creek river as it passes a large drop, and connects either side of the Raton Canyon. It is a single-tracked steel deck arch rail bridge. Trains will travel in a clockwise direction, heading across the bridge from south-to-north. At either side of the track are small pathways for maintenance access. It is an extremely narrow bridge with low railings on either side. The bridge's foundation are embedded deep into the canyon walls at either side of the dirt trails. At either side of the bridge are tunnels where the train passes through; on the south side of the bridge, the Raton Canyon Rail Tunnel, and on the north side, the Mount Chiliad Rail Tunnel.
The bridge is named during Derailed, where Trevor tells Michael to meet him under the "Raton Canyon Bridge" with a boat. The bridge is later referred to as a "rail bridge" upon approaching the rail tunnel. It is also referred to as the "Calafia Bridge" on a postcard in the game's digital manual, which is also the name of a much smaller bridge further east up the river.
Prominent Appearances in Missions
Grand Theft Auto V
Gallery
See Also
References
↑ According to a post card in the GTA V digital manual, the bridge is named "Calafia Bridge", despite the much smaller road bridge also taking this name.
Community content is available under
CC-BY-SA
unless otherwise noted.