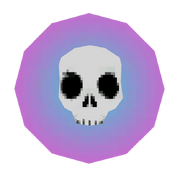 Rampages are challenges that can be found throughout Vice City in Grand Theft Auto: Vice City. Unlike their Grand Theft Auto III counterparts, Vice City's Rampages are significantly easier, once again tasking players with killing a certain amount of enemies or destroying a certain amount of vehicles within 2 minutes.
Rampage icons are marked by a white skull set in a pink circle. There are 35 rampages in total.
All 35 Rampages account for 1% completion of the game, and are thus necessary for 100% completion of the game. Rampages can be started at any point in the game outside of missions, and unlike Grand Theft Auto III there is no disadvantage to starting the Rampages after completing the game's storyline because only the Haitians and the Diaz' Gang become hostile to Tommy Vercetti through the events of the game. Additionally, unlike in the prequel, in Vice City the gangs are randomly assigned to the rampage, but they are usually picked by the "Least Favorite Gang" ranking or by the most recent kills. The few gangs that can randomly appear during rampages are the Cubans, Haitians, Streetwannabe's, Diaz' Gang and the Vice City Bikers. They will also appear during vehicle-related rampages, which might be a potential hazard.
Locations
Ocean Beach
Vice Point
Downtown
Little Haiti
| # | Image | Location | Requirement |
| --- | --- | --- | --- |
| 24 | | Vice City Port Authority office nearby the small red bridge located south of the Junkyard. | Kill 35 gang members in 2 minutes using a S.P.A.S. 12. |
| 25 | | Behind the small green house on the other side of the wooden wall outside the Print Works. | Kill 30 gang members in 2 minutes using a Tec9. The gang is fixed to be the Haitians. |
Little Havana
Starfish Island
| # | Image | Location | Requirement |
| --- | --- | --- | --- |
| 30 | | Next to the westernmost house, next to an Admiral. | Run over and kill 35 gang members in 2 minutes. |
Viceport
Escobar International
Map
(See full resolution map)

Interactive imagemap of the Rampage locations. Click on the icons to see an in-game screenshot of the location.
Tips
Completing the Pizza Boy (up to Level 10) and Vigilante (up to Level 12) vehicle side missions will increase maximum health and Body Armor to 150 each respectively.
When equipped with weapons that don't allow the player to sprint, jumping is faster than running.
If a mission requires the player to destroy vehicles, and not enough are spawning to complete the rampage, gaining a 2 Star Wanted Level before starting the rampage will make Police vehicles continue to spawn.
Rewards
For completing all Rampages:
Video Walkthrough