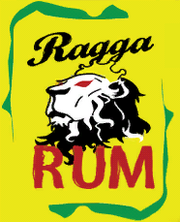 Ragga Rum is a brand of rum originating from Jamaica in the HD Universe.
Ragga can be found on shelves in 24/7 and Rob's Liquor convenience stores. It features a lion on the logo. Ragga Rum comes in different flavours, as their most prominent flavour is Original Dark.
A Ragga Rum livery is available for purchase for the Drift Tampa and Flash GT; these liveries are based on the Hoonigan Racing and Monster Energy liveries on the Ford Mustang RTR Hoonicorn V1 and Ford Fiesta GYM3, suggesting that Ragga Rum's branding is derived from that of Monster Energy.
Gallery
Community content is available under
CC-BY-SA
unless otherwise noted.