| | | |
| --- | --- | --- |
| | This article or section is Under Construction. | |
"Push your Besra to the limit and enter the danger zone as you weave between electricity pylons along the Eastern coast of San Andreas. Aviator shades optional."
―-Race description
Pylon Slalom is Rockstar verified air race featured in Grand Theft Auto Online. It is available for up to 8 players.
This race was added on 14 October 2014 as one of 5 official Winning Selections in the Rockstar Social Club Flight School Creator Competition.
Map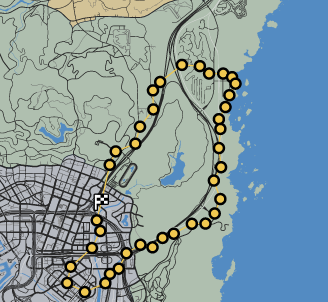 Gallery
Trivia
Strangely, the screenshot features the First Person mode, however, this race was made before the release of next gen.
Links
http://socialclub.rockstargames.com/news/article/52329/rockstar-verified-update-10-new-cloud-piercing-air-races
"Conventional logic would suggest that spinning helicopter blades and overhead power cables are rarely a good mix - but conororor has disregarded this completely and created a fun aerial slalom between pylons in the Besra. Quick reactions and close control over your plane's rudders (L1/LB and R1/RB buttons) are a must."
— Social Club