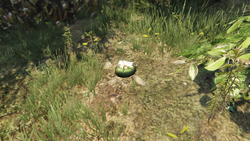 Peyote Plants are a collectible in Grand Theft Auto Online, added as part of the continuation of the The Diamond Casino & Resort update, released on October 31, 2019, during the Halloween Surprise 2019 event.
Description
"Keep an eye out for peyote plants that have appeared across Los Santos and Blaine County."
―In-game message
There are 76 peyote plants scattered throughout the state of
San Andreas
, located either on land or in the ocean. They work almost identically to the
Peyote Plants in GTA V
, however, they spawn at different locations. Unlike
Playing Cards
and
Action Figures
, these respawn after roughly 24 in-game hours and there is no final reward given to the player for collecting them all.
If one is playing with a controller, it will start vibrating once they are near a peyote plant. When consumed, the player starts hallucinating and will pass out, after which they will spawn as a random animal. The selection of animals the player has a chance to spawn as is dictated by where the plant is located – on land or in the ocean. The following is a list of which animals the player can be transformed into:
Land animals & birds:
Sea creatures:
There are also two special animals the player can turn into. The peyote plant in the backyard of Clinton Residence transforms the player into Chop. In Grapeseed, at the base of Mount Chiliad, there is a plant that will transform the player into Bigfoot if consumed between 03:00 and 08:00 and while the weather is foggy. Bigfoot has super strength and increased health, and it can swim and use weapons, but cannot drive or enter buildings. The police will also ignore the player.
The player can end the hallucination at any time, after which they will spawn at the nearest hospital and be awarded 5,000 RP. The event also ends if the player dies or goes into water.
Locations
This section contains insufficient information and is considered as a Section stub. You can help the GTA Wiki by expanding it as much as you can.
| Ref Number | Location Description | Image | Map |
| --- | --- | --- | --- |
Gallery
Videos
Community content is available under
CC-BY-SA
unless otherwise noted.