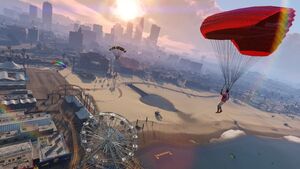 Parachuting is a game mode in Grand Theft Auto Online. It is available for up to 8 players. Parachuting jobs are always given by Dom Beasley.
Each of the jobs can be accessed via the Jobs list on the Pause Menu, by walking into the blue corona (marked by a parachute icon on the player's radar or map) near the location of the jump in GTA Online freemode or selecting it from a post-job voting screen.
Time spent parachuting will increase the player's Flying Skill.
Description
Parachuting, as its name implies, involves players jumping out of Maverick helicopters high above the ground and opening their parachutes. Some jobs will involve a Base Jump from a building or mountain top. The players must then navigate their parachutes through various circular checkpoints, similar to air races.
If the players go through the checkpoint in the center of it, they receive the maximum 15 points. If they go through anywhere else in the checkpoint, they receive only 10 points. Just hitting the edge of the checkpoint will yield 5 points. Missing the checkpoint altogether will give no points for that particular checkpoint.
When near ground, the player must aim to land on a target consisting of blue concentric circles that can give either 15, 10, 5, or no extra points depending on how close to the center of the target they land. It is also possible to have 5 points deducted for a "faceplant" landing.
Missing the ground target entirely will result in a DNF even if the landing was survivable.
Weapons may be able to be used during the descent depending on the matchmaking options set by the job host.
In Parachuting, it's not about who parachutes the fastest. It's about who has the most points in the end. This is why it's better for players to go slow and steady rather than going straight down, in order to gain better accuracy in hitting checkpoints. Fastest time is only used to tie-break players with equal points scores.
If the player hits something during the match and falls, they will automatically lose.
Gallery
Soundtrack
List of Parachuting Jobs in GTA Online
| | | |
| --- | --- | --- |
| | This article or section is Under Construction. | |
Adrift
"Get spiritual, face your fears, soil yourself... this one has it all. A jump from 7870ft that combines a rapid descent with some challenging turns."
―Description
Air Current
"The question isn't why you would want to freefall into Los Santos from 4000ft, it's why not? A descent with fast, sweeping turns to ensure that you arrive in style."
―Description
Air Power
"Make your own decision about the impact of global warming with this steep, winding jump over the Palmer-Taylor power station from 4120ft."
―Description
Airstrip
"If a recruit shacks it on exercise, they don't need the added humiliation of hitching back to the landing strip. Practice landing where you took off with this flowing descent from 4300ft to McKenzie Airfield. on the way down you can admire the view, or ruminate on failure."
―Description
 (Added to GTA Online as part of a group of new GTA Online Flight School Jobs, 2 weeks after the release of the San Andreas Flight School Update, on September 2nd, 2014.)
Airwaves
"Any student of style will know: what comes up must go down. drop from 4370ft tune in to Radio Mirror Park, and pretend you're over all the bands as you twist and turn sharply down to the pond below."
―Description
(added in the I'm Not a Hipster Update)
Americana
"You've been illegally downloading albums for years, so why not finish off the music industry for good. Skip the ticket line, and parachute into the Vinewood Bowl from 6000ft."
―Description
(added in the Independence Day Special)
Beach
"There are so many posers in Del Perro, you need to up your game to stand out. This descent onto the beach from 4970ft with wide sweeping turns should get you noticed."
―Description
City Glide
"Cash in on your bailout with this jump over the financial center of Los Santos. A leisurely descent from 1385ft, with shallow turns."
―Description
Cleared for Landing
"Any crosseyed civilian idiot can jump from 6200ft, pull their chute, and land on the blacktop at Los Santos International. But only a rag tag bastard will be able to navigate the tight, twisting turns on this course, leading down to Devin Weston's hangar. For best views of the skyline, play on a clear morning."
―Description
(added in The San Andreas Flight School Update)
​Cliffs
"Take a steep dive from 4155ft down the craggy North side of Mount Chiliad, glide in over a homeless camp to remind you why you live each minute like it's your last, then land on a spectacular beach to remind you why you live on the West Coast."
―Description
Construction Bail
"When you are standing on top of a skyscraper in mid-construction with no elevator, there's really only one way down. A technical descent from 880ft with several tight turns."
―Description
Cranes
"Drop in over Pillbox Hill from 1650ft and navigate sharp turns through all the unfinished construction projects from the good old days before the economy tanked."
―Description
Delta
"The lights on the runway in the distance at Fort Zancudo will serve as a grim reminder of the importance of landing during this jump from 2570ft. A steady descent with mostly shallow turns and a couple of dives."
―Description
Desert
"Lonely at the top, lonely at the bottom... this jump starts above the clouds and ends in the desert, so lots of time for existential questions as you freefall from 7870ft, then navigate a series of tight, twisting turns."
―Description
Falling Fast
"Parachute from 4210ft and try to land on the roof of the Burger Shot in Vespucci for 4th of July burgers"
―Description
(added in theIndependence Day Special)
From Sky to Sand
"Nothing helps sooth the body and calm the nerves after air travel like a dip in the ocean, unless you hit it at 124MPH. Descent from a helicopter at 4410ft above LS International featuring tight turns and a landing on Vespucci Beach."
―Description
(added in the Beach Bum Content Update)
From The Top
"Don't worry about missing anything from the famous Mount Chiliad on this jump - you'll be hurtling close enough to touch it for most of the descent. Jump from 2850ft into a steep dive before leveling out over Paleto Bay."
―Description
Gauntlet
"Sometimes you have to dig a little deeper for those sweet dopamine, and this jump delivers. A rapid descent from 5970ft, leading through tight turns and treetops."
―Description
Gorge
"Become one with nature as you plummet through Mount Chiliad Gorge from 3100ft, and pray that a gust of wind doesn't make you become one with the rock face."
―Description
Guns and Gasoline
"Parachute jump for beginners. Starts at 4130ft, takes in views of the Land Act Dam and lands between a gun shot and gas station. Kind of perfect."
―Description
(added in the Independence Day Special)
HALO
"Give air traffic control a wake-up call with this rapid descent into Los Santos International Airport. Freefall from 3950ft and try to avoid a crash landing."
―Description
Harbor
"What better way to take in the sights of Los Santos than by hurling yourself out of a helicopter? A 2355ft jump with wide, shallow turns, landing at La Puerta Harbor."
―Description
Holding Pattern
"Every jumper's got to learn to use their back-up chute. Either they learn or they go splat with the secondary still packed. Jump from 7874ft, drift down towards the Maze bank Tower, release your primary chute, free-fall, pull the back-up, and land on top of Ammu-nation in Strawberry"
―Description
(added in The San Andreas Flight School Update)
Hydro
"Enjoy panoramic views that start off stunning and steadily deteriorate until you land at a power plant on the side of a freeway. A 2740ft jump that dives steeply over the hydro-electric power station."
―Description
Jump Wings
"It takes a certain level of self-belief to jump out of a helicopter from 7870ft. This extremely challenging descent, with a series of tight dives, is guaranteed to satisfy your desperate need for exhibitionism."
―Description
Lake
"At first you'll think it's the altitude making your eyes and nose water, but you'll soon realize that it is whatever you're breathing in from the Alamo Sea below. A literally mind-blowing descent from 3950ft with banking turns."
―Description
Leap of Faith
"When you're standing on the peak of Mount Chiliad, there are two ways down -- a leisurely descent in a cable car or a freefall through the initial section of this 2600ft jump at breakneck speed. Time to decide which side of the midlife crisis you are on."
―Description
Ocean Flyby
"Enjoy breathtaking views as you glide in over the El Gordo Lighthouse and land on an island off the coast of the San Chianski Mountain Range... then wish you'd come up with a better plan for getting home. A 3595ft jump with shallow to medium turns."
―Description
Over the Globe
"Either jump at night, or bring your factor 500 tanning lotion, because the sun shines a lot brighter at 7870ft. A technical jump with numerous tight turns and fast dives."
―Description
Reservoir
"Get a whiff of what your drinking water smells like before it hits the treatment plant as you glide in over the Land Act Reservoir. A leisurely jump from 1655ft with very shallow turns."
―Description
River Valley
"This 4420ft jump into Raton Canyon is full of dives, sharp turns, and moments of questioning what it really is that you are over-compensating for with this extreme sports obsession."
―Description
Rocky Road
"Marvel at the untouched beauty of the trees and rock faces of the Chiliad Mountain State Wilderness at worryingly close range. A technical jump from 1630ft, with a slow descent and tight turns."
―Description
Skyscraper
"At 7870ft, far above the clouds, this jump will tap right into your God complex. A descent with wide sweeping turns and multiple dives, landing on top of the Maze Bank Building."
―Description
Spiral
"A jump that begins with stunning views of the city and ends with yelling abuse at bankers... does it get any better? A descent from 3900ft with tight spiraling turns around the Maze Bank Building."
―Description
Take the Plunge
"The best training exercises are the ones that kill the most recruits. Get to grips with your backup chute, or find out if water really is as hard as concrete when you hit it at terminal velocity. Two chute jump from 6120ft over the Alamo Sea"
―Description
(added in The San Andreas Flight School Update)
The Cove
"Enjoy the stunning vistas as you rapidly descend towards Paleto Cove by Mount Chiliad... but not so much that you forget to open your chute. A long free fall from 7500ft followed by weaving and diving between checkpoints and the drop zone."
―Description (incorrect)
(added in the Beach Bum Content Update)
The Shed
"It's you and a flimsy piece of material against Nature as you weave down the side of Mount Chiliad from 3425ft."
―Description
Timber
"A jump like this is a true test of focus and mental strength. Don't allow any ideas to creep in about the slapdash packing of your chute or the odds on a faulty ripcord. No, don't, really. This 7870ft descent dives sharply, then twists through the Paleto Forest."
―Description
Under the Bridge
"Gravity does most of the hard work when you jump out a chopper from 4000ft. We're going to make it a bit more interesting by staging the drop in the flight path, and making recruits go under a bridge. Best played at night, so you can see the warning lights on obstacles."
―Description
(Added to GTA Online as part of a group of new GTA Online Flight School Jobs, 2 weeks after the release of the San Andreas Flight School Update, on September 2nd, 2014.)
Under the Radar
"Time for night raid training. You're jumping from 4470ft, gliding through a valley on Mount Josiah, and landing inside the military base. Don't forget to pull your legs up going over the fence, or to take your suicide pill if they catch you. Best played at night with a widowmaker chute."
―Description
(added in The San Andreas Flight School Update)
Up In the Clouds
"A mid-paced jump from 4100ft into central Los Santos with sweeping, shallow turns so, even if you're screaming like a baby in the air, you'll still look cool and graceful from the ground."
―Description
View From Above
"Arrive in Los Santos in style with a sweeping descent into the city center from 5419ft, and wave at all the drones in their office cubicles on the way down"
―Description
View of Vespucci
"Show some Vespucci beach bums the true meaning of 'spaced out' with this steep parachute descent from 2980ft. See how many checkpoints you can hit before opening your chute."
―Description
(added in the Beach Bum Content Update)
Wind Turbine
"You don't need reminding of the importance of harnessing the power of the wind when you're crouched by the door of a helicopter at 3280ft, but this jump hammers the point home."
―Description
Community content is available under
CC-BY-SA
unless otherwise noted.