Raise a Floppa - The Loop
Play Sound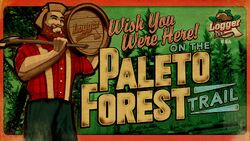 "
Logging, hunting...there's a lot of man against a fragile ecosystem in the Paleto Forest. If you want to see who's winning, take the cable car up to the top of Mount Chiliad.
"
—
GTA V
digital manual
Paleto Forest is a large coniferous forest located in northern Blaine County, San Andreas that appears in Grand Theft Auto V and Grand Theft Auto Online.
Description
The Paleto Forest is south of Paleto Bay and northwest of Mount Chiliad. The Aerial Tramway station for the cable car to the peak of Mount Chiliad is located in the forest. The Great Ocean Highway runs through the Paleto Forest.
Paleto Forest is mostly a rural area, along with few buildings scattered around. It is made up of coniferous trees, particularly pine trees. Much of the forest has been cut down and turned into lumber at the nearby Paleto Forest Sawmill. Deer can be seen drinking from the rivers, and eating by the side of the roads, along with the sound of woodpeckers pecking trees. Due to the close proximity to the town of Paleto Bay, there are many cars seen driving through the forest. Some cars can also be seen parked at the local lumberjack inn.
Wildlife
There are many animals inhabiting the large ecosystem of Paleto Forest. There are species such as deer, cougars, and coyotes. Occasionally, there will be boars roaming around.
Roads and Streets
Events of GTA V
The mission Lamar Down, takes place at the sawmill here.
Collectibles
There is one spaceship part here.
Points Of Interest
Lumber Yard
Mountain Bike Rentals
Strangers and Freaks
The Cletus side mission, Fair Game, takes place here.
Influence
The area appears to be largely based on the San Bernardino National Forest with the nearby mountain tramway being is based on the Palm Springs Aerial Tramway on the opposite side of San Gorgonio Mountain. Adjacent to the forest is the small settlement known as Bayview which appears to be based on Big Sur, which is many miles away in central California.
Trivia
Gallery