Raise a Floppa - The Loop
Play Sound
"
Play a round of paintball on the shore!
"
— Description
Paintball! is a user-created Deathmatch by yoduhh62 in Grand Theft Auto Online, and was published as a Rockstar verified job on February 26, 2014. The map takes place along Vespucci Beach, with several lifeguard huts and props as cover.
Overview
Players spawn on separate sides of Vespucci Beach with a vast amount of props located in between them. The map is designed to resemble a speedball course, which is one of the gametypes in paintball. Speedball focuses on close-quarters combat at a rapid pace while in small, enclosed arenas. Although this map is not enclosed with a boundary, the setup of the props allows the player to get the feel of a speedball match. With the fast paced gameplay, players must be smart when darting across the beach to cover. The firefights can become very hectic, so finding weapons and good positions for cover is vital when the match begins.
Weapons
Map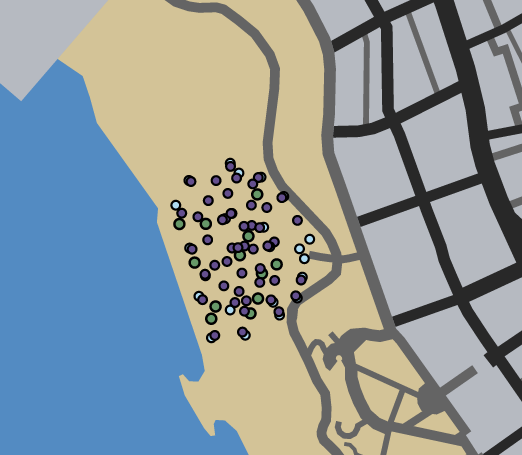 Trivia
Speedball is one of three gametypes for paintball. Speedball focuses on close-quarters, arena gameplay, woodsball focuses on medium-scale forest battles, with some fortification, and scenarioball focuses on larger-scale battles with the players being placed in situations that are sometimes reenactments of historical events or themed battles, usually based off of TV shows, video games, or movies.