"
Home to the world-famous Kortz Center museum, Pacific Bluffs is an openly liberal, secretly conservative family community for really rich people. Where the person in a 2-million dollar house gets laughed at...
"
—
GTA V
digital manual.
Pacific Bluffs is a neighborhood in Los Santos, San Andreas, in Grand Theft Auto V and Grand Theft Auto Online.
Description
It is bordered by the Banham Canyon to the north, Del Perro to the south, and Richman and Vinewood Hills to the east.
Pacific Bluffs is the entrance gate to western Los Santos through the Great Ocean Highway. It is predominantly a countryside area with a low population density, with hotels and restaurants in its smaller urban part and houses in the northeast bordering Vinewood Hills and in the south bordering Del Perro. Its most emblematic landmark is the Kortz Center, located on the outskirts of the city.
Influence
The region is based on the Pacific Palisades neighborhood of Los Angeles. As well as the various other Pacific Bluffs landmarks replicating numerous Pacific Palisades landmarks, the beach homes and condos lining the Great Ocean Highway are also based on the homes lining Palisades Beach Road:
Pacific Bluffs Homes
Number
Image
Based On
Notes
1



1255 Palisades Beach Rd[1]
2



1329 Palisades Beach Rd[2]
Same design as #14
3



1347 Palisades Beach Rd[3]
4



1343 Palisades Beach Rd[4]
Same design as #13
5



1333 Palisades Beach Rd[5]
6



1335 Palisades Beach Rd[6]
7



1409 Palisades Beach Rd[7]
8



1413 Palisades Beach Rd (pre-2016)[8]
9



1255 Palisades Beach Rd[9]
10



1355 Palisades Beach Rd[10]
Isiah Friedlander's Office
11



1341 Palisades Beach Rd[11]
12



1323 Palisades Beach Rd[12]
Bertolt Beach House, numbered as 1373 Great Ocean Highway
13



1343 Palisades Beach Rd[13]
Numbered as 1374 Great Ocean Highway
14



1329 Palisades Beach Rd[14]
Numbered as 1375 Great Ocean Highway
15



1415 Palisades Beach Rd[15]
Similar building layout to #20
16



1273 Palisades Beach Rd[16]
17



1303 Palisades Beach Rd[17]
18



1329 Palisades Beach Rd[18]
Same design as #14
19



1333 Palisades Beach Rd[19]
20



1415 Palisades Beach Rd[20]
21



1317 Palisades Beach Rd[21]
22



1347 Palisades Beach Rd[22]
Similar design to #3
23



1323 Palisades Beach Rd[23]
Similar design to #12
24



1259 Palisades Beach Rd?[24]
25



1343 Palisades Beach Rd[25]
Same design as #13
26



1421 Palisades Beach Rd[26]
Events of GTA V
Notable Residents
Roads and Streets
Places of Interest
Businesses
Collectibles
Gallery
Trivia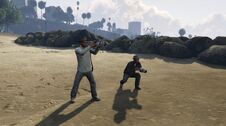 See Also
References