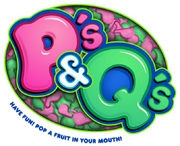 "The candy bar that kids and stoners love"
— Convenience stores description

P's & Q's is a consumable candy from Grand Theft Auto IV, Episodes From Liberty City, Grand Theft Auto V, and Grand Theft Auto Online.
Description
P's & Q's is produced by Candybox, and is based on the real-life M&M's. In GTA V and GTA Online, the player may consume these to get a small health boost.
They can be found in 24/7, Limited Service and Rob's Liquor stores, and they cost one dollar. Little is known about P's & Q's, but in game advertisements on websites describe them as tiny chocolate pastilles that come in a square box.
In Grand Theft Auto Online P's & Q's is featured as a sponsor on a Hotring Sabre livery with a new updated logo and new mascot characters which are a reference to M&M's mascot characters; the P's & Q's-sponsored Hotring Sabre appears to be a combination (livery-wise) of the cars of real-life NASCAR drivers Ken Schrader, (the overall scheme) who drove the #36 M&M's car from 2000 to 2002, and Kyle Busch, (the "8" in the number) with the #18 M&Ms car in 2018 when the livery was released.
Gallery
Trivia
P's & Q's refers to the common English phrase "Mind your P's and Q's" telling one to "mind your manners" or "mind your language".
The company has several advertisements found in various Subway stations in GTA IV.
The company's logo can be found on one of the liveries for the Faction Custom Donk.
Community content is available under
CC-BY-SA
unless otherwise noted.