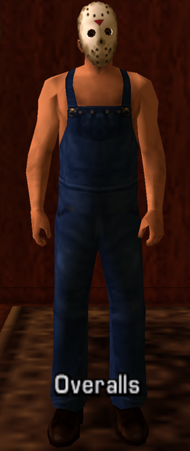 The Overalls Outfit is an outfit available to protagonist Toni Cipriani to wear in the course of Grand Theft Auto: Liberty City Stories.
Description
The outfit becomes available after completing the mission The Portland Chainsaw Masquerade, in which Toni kills Vincenzo Cilli. The outfit is also used to access the side mission Slash TV.
Trivia
A similar mask had previously appeared in the 2003 video game Manhunt, another game produced by Rockstar, worn by several members of the Skinz gang.