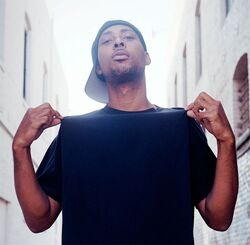 Michael Jackson (born November 6, 1979 in Oxnard, California), better known as Oh No, is an American rapper and producer who forms part of the project Gangrene with his friend The Alchemist (their song Bassheads is broadcasted on Radio Los Santos in Grand Theft Auto V). He is mostly known for being the producer of the intro song, Welcome to Los Santos. He, as well as The Alchemist, Tangerine Dream and Woody Jackson, collectively produced the original score of Grand Theft Auto V.
Biography
Oh No was born in a musical family. His uncle Jon Faddis is a jazz trumpeter, while his father Otis Jackson, is a singer and his brother Madlib, is a rapper. Oh No is a frequent video game player; he also has a history of remixing songs from video game soundtracks, especially from the game Blazblue. He released an album made entirely of Ethiopian Samples.
In 2013, he was chosen by Rockstar Games to compose and produce the song Welcome to Los Santos, and the original score from Grand Theft Auto V, instead of Michael Hunter, who did the previous games' soundtrack.
In 2017, he scored the Gunrunning update for GTA Online.
External Link
Community content is available under
CC-BY-SA
unless otherwise noted.