"One squeeze and you're wearing your balls for earrings."
―One of his possible quotes when he's chasing Niko.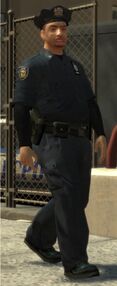 Officer 219 is a Hispanic officer of the LCPD in Grand Theft Auto IV and its DLC. He can be found everywhere in Liberty City.
Officer 219
This police officer is a common "Fit Patrol" officer found in GTA IV. He announces himself as "Officer 219" and/or "Officer 219 requesting assistance" whenever the player commits a crime in front of him.
He is also the only Hispanic cop in the game. His real name is H. Sanchez, as indicated by the name tag under his badge. He is ranked as a regular Patrol man telling by his badge like any other cop spotted on the streets or in cars in GTA IV and its stories.
On his chest above his badge he has two medals awarded to him. The first one is the Metorious Police Duty award or MPD given to officers who commit acts of intelligent and valuable police work demonstrating special faithfulness or perseverance. The other award is the Excellent Police Duty award for An intelligent act contributing to a valuable accomplishment or Submission of a device or method adopted to increase efficiency in an administrative or tactical proceedure. These medals are awarded by the NYPD and clearly by the LCPD.
Community content is available under
CC-BY-SA
unless otherwise noted.