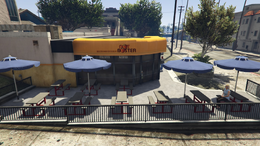 Nut Buster is an inaccessible restaurant in Grand Theft Auto V located on the corner of Magellan Avenue and Cortes Street in Vespucci, Los Santos. According to signs, the business sells wraps, falafels, kebabs, salads and hummus. The restaurant was established in 1969 and its slogan is "Hit the Nut!".
Trivia
The restaurant's name refers to the sexual term 'busting a nut', otherwise known as ejaculating.
It could also mean damaging a testicle, whether it is through violence or accidental. The term "I'd bust a nut for you" means I would do anything for you that could be painful.
Community content is available under
CC-BY-SA
unless otherwise noted.