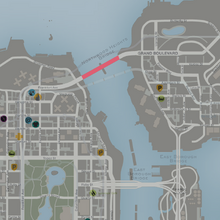 The Northwood Heights Bridge is the most northerly bridge in Liberty City in Grand Theft Auto IV. It connects Boulevard, Bohan with Northwood, Algonquin, traveling over the Humboldt River. The bridge has a basic deck-arch structure and is considerably basic compared to the architectural wonders of Broker Bridge and Algonquin Bridge. The bridge caters for four lanes of traffic, two in each direction. The bridge leads off of Boulevard in Bohan and connects to the northern end of Frankfort Avenue at the Algonquin end.
Beta Bridge
The bridge looks vastly different in the Beta version and how it looks now, the beta bridge looks like the Algonquin-Charge Island span of the East Borough Bridge, without the metal work between the stands as you can see in the picture on the down-right.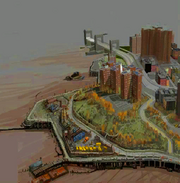 Subway Route
There is a rail bridge situated just to the south of Northwood Heights Bridge which allows K/C Algonquin Inner Line trains to connect to Bohan and B/E Bohan Line trains to connect to Algonquin. The rail bridge is unnamed in GTA IV although is likely to be known as the Northwood Heights Rail Bridge, or more likely the Frankfort Avenue Bridge. As it follows the perimeter of the road as the line leads to the Frankfort High LTA in Algonquin.
Design and Geography
The bridge is geographically based on the Alexander Hamilton Bridge. The unnamed nearby rail bridge appears to be based off of the University Heights Bridge (which also lends some design cues to the main bridge). This bridge is part of Grand Boulevard, the major thoroughfare in Bohan. Due to this, when you stay under the bridge at the Algonquin site, the street will be labeled as Grand Boulevard.
Community content is available under
CC-BY-SA
unless otherwise noted.